The dreamy Stars on Ice show in Seattle
July 26 , 2017
By Anna Zeitlin
Photos © Anna Zeitlin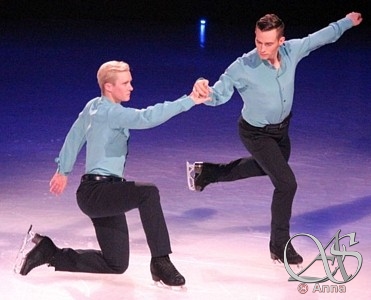 For the second act's opening, the cast came out on the ice, skating to Fratres by Arvo Pärt. It's a very original choice of music, which I liked. This wasn't everyone-skates-in-unison type of group number. Instead, skaters took turns to showcase their abilities (sometimes some of them did skate in unison, like Davis & White and Chock & Bates doing lifts and moves simultaneously). But my favorites here were Jeremy Abbott and Adam Rippon, skating as a "pair". Overall, a unique and beautiful group number.
The opening seamlessly transitioned into the first solo of the second act, as skaters left the ice with just Madison Hubbell & Zachary Donohue staying there, taking their starting pose to the dying sounds of the previous song. And then, without a pause, Stand by Me by Florence + the Machine started. While I'm not sure I like this specific cover to the song, Madison and Zachary were exquisite in this performance - beautiful lines and edges, lovely lifts and a real sense of chemistry between them.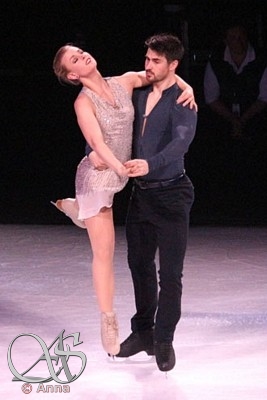 Adam Rippon was great in Getaway by Tritonal ft. Angel Taylor – such an energetic number! Adam had a thin black mask around his eyes, which, for me, echoed Jeremy Abbott's red line in the first act in some way. I loved Adam's arm movements – so smooth and fluid, and his spins are amazing. This number was a lot of fun, and Adam even flirted with someone in the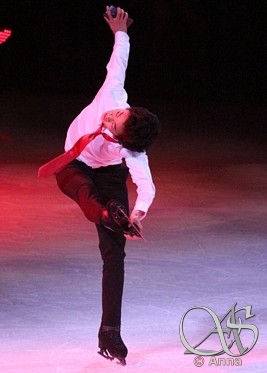 audience towards the end which was very cute.
Nathan Chen rocked the house again with Parachute by Otto Knows. I really liked the smart look with the red tie, and the use of a cellphone as a prop – at the beginning of the number there is a phone ringing and turns out it's Nathan's, so he continues to skate with a phone in his hand. Very contemporary, I would say. Nathan performed a very solid quad in this program, and a triple, his spins were to die for, and I liked the step sequence at the end too. So Nathan managed to have a highly entertaining show program, while not forgetting about the technical content, and holding an object in his hand part of the time too. Kudos to him for that and I really hope he will return to SOI next year!
After Nathan's number Jeremy Abbot, Madison Chock and Evan Bates appeared for a short interlude to Tilted by Christine and the Queens. I liked their synchronous robot-like movements, especially their hand gestures. A fascinating little number and I would definitely watch a full version by these three.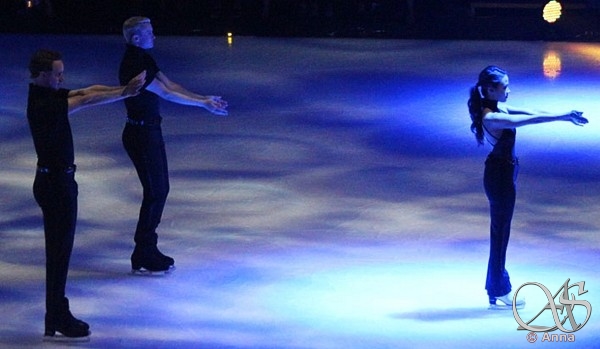 Who should skate to the number called Golden by Ruth B if not Gracie Gold (and with appropriately colored dress as well). I liked the creative arm and leg movements Gracie demonstrated in this program, but again her technical side was lacking – only one double jump, and she also fell on a spin. I do hope that Gracie will be back in shape by the beginning of the season!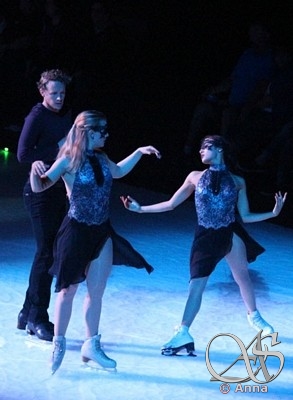 In the first half of the show the mid-act group number was performed by singles skaters, so now it was time for the ice dancers to shine. Meryl Davis & Charlie White, Madison Chock & Evan Bates and Madison Hubbell & Zachary Donohue were all fantastic in Black Hole Sun by Nouela. All dancers clad in black, with ladies also wearing black lace masks (there was definitely a mask theme going on in this show), this was a solemn and beautiful performance. It started with each couple doing moves with the spotlight turning up on them; then, after some dance moves by each couple, they broke into two groups – Evan got to skate with two Madisons (in some cultures you should make a wish when you're between two people who are namesakes, so I hope he did :) ) and Meryl got herself Charlie and Zachary. They did some interesting moves and lifts, and then returned to the regular formation of three couples and did some more lifts and moves in unison. I was very impressed with this number.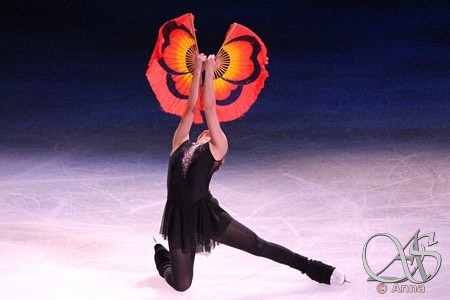 Karen Chen was brilliant in Butterfly Lovers by Lu Si-qing, a program she choreographed herself. She used two bright red fans as props throughout the number and they gave her performance an added layer of originality and flair. With two triple jumps and a double, stunning Bielmann spins, beautiful lines and gentle moves, Karen was truly a joy to watch.
Jeremy Abbott's In This Shirt by The Irrepressibles was again a work of art, which, like his number in the first act, started with a short video before Jeremy himself, wearing white, in a strange-looking shirt (alluding to the song's title maybe?) which reminded me of a hospital robe (maybe because it was closed on the sides with ties), appeared in the spotlight. I was enthralled with this number, with Jeremy's sharp, broken movements, his steps and spins. Two of his three jumps were somewhat wobbly but that hardly mattered – this was a remarkable, special, artistic performance.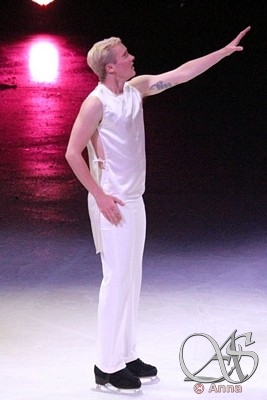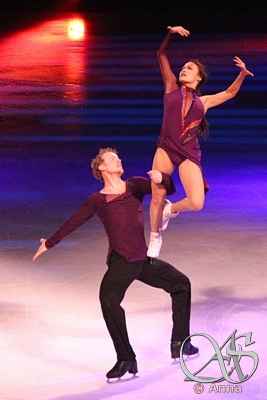 When Jeremy finished bowing after his number, he didn't leave right away – instead, he raised his hand and started snapping his fingers to the beat of music, as Madison Chock & Evan Bates came out, snapping their fingers too, and took starting position for their number to Under Pressure by David Bowie & Queen. This is a short version of their free dance from this season and as such, it looked much more technical than their number in the first act. I loved it – well, how can one not love great steps, beautiful spins and awesome lifts, all weaved into an alluring artistic performance.
Ashley Wagner was on fire in Handclap by Fitz and the Tantrums. I loved her energy, and her technique – she did a great 3T and a wonderful step sequence. This was such a vivacious number, with a lot of handclapping (naturally), for which the crowd was joining in. Ashley is a genuine entertainer and she keeps proving that with every performance.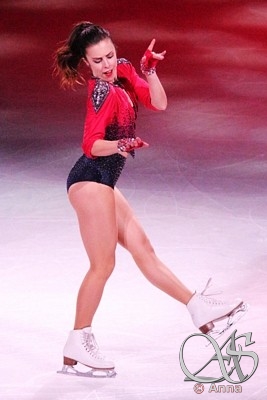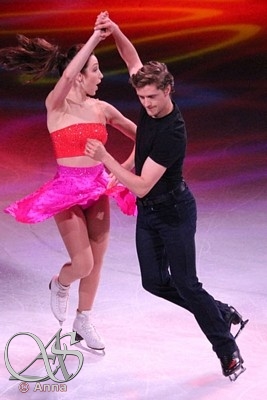 Meryl Davis & Charlie White rounded up the solo numbers of the evening, and there couldn't be a better number for the end of the show. Their Sax by Fleur East was a concentration of fun, bursting energy, charisma and technical content. At times I had to remind myself Meryl and Charlie actually skate on ice, not dance on the floor, so flawless, complex, and yet ostensibly effortless were their steps. This was a performance of true champions.
Jeremy Abbott started the group number to Can't Stop the Feeling! by Justin Timberlake, first joined by Adam Rippon and then, gradually, by the rest of the cast. Each skater was showcasing some moves, like lifts for ice dancers, until everyone formed one line for the final bow… which wasn't really final, because right after that, each of the skaters was called out by the announcer to the center of the rink with everyone else standing around and clapping. Each skater (or couple) did a few moves on their own then – I especially enjoyed Adam's use of Karen's fan and Madison's and Evan's funny robot-like movements. And then it was really the last wave from the skaters and the last goodbye. The show has ended…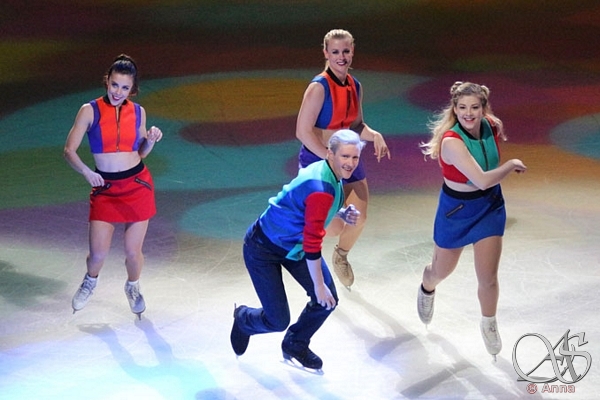 Every time I attend a "Stars on Ice" show, I expect to see great solo performances and exciting numbers by the entire cast. I am never disappointed, and this year again, the "In Dreams" show was indeed dreamy – so much talent, artistry, technical prowess, charisma and energy is present at the rink, it's a wonder the ice doesn't melt under these athletes' skates.
The only thing I found disappointing was a pretty poor attendance at Seattle's Key Arena. These skaters and these performances deserve a full house, a large enthusiastic audience (the crowd was definitely enthusiastic; it just wasn't a very large crowd). I hope that figure skating will gain popularity again in the USA, and that more people will come to admire and revel at these fantastic artists and athletes, be proud of their achievements, enjoy their wonderful performances and just have a good time at this great show called "Stars on Ice".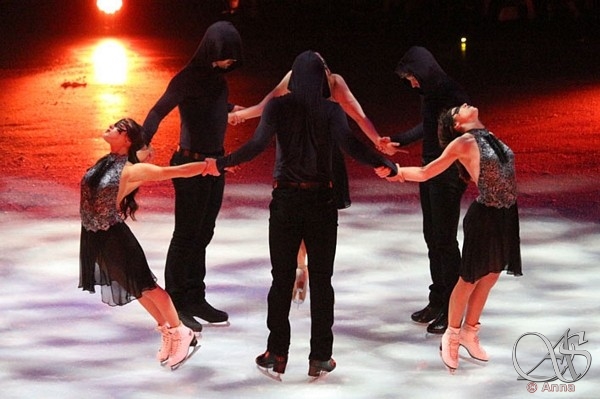 Continue to photo page here
Back to Act 1