Olympic Games 2018 Insider Reviews: David Richardson talks Teams - Pairs
February 13, 2018
By David Richardson
Photos © Mireille Geurts, Reut Golinsky, Keiko Kasai, Oxana Shkrebtienko (LMDJ)

*Photos not taken at the Olympics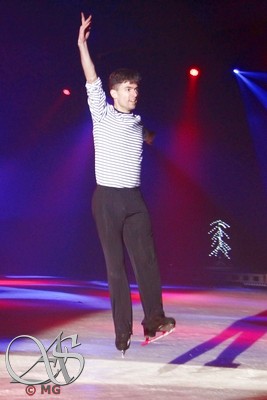 Hi reader, my name is David Richardson. 4 years ago I was the reserve entry for Team GB at the Sochi Games, for the team event. In 2010/2011 I was national champion and competed at both European and World Championships. I retired from competitive skating in 2014 and briefly performed in professional shows. I now coach full time in the North of England, whilst keeping a close eye on international events!
The precision, bravery and trust that a pairs partnership must have has always astounded me. Ice-skating in general is a tricky sport. We basically wear high-heel boots, with a knife attached to the sole…ok so that's maybe slightly exaggerated but it's crazy to think that some people in the sport allow others to pick them up and throw around, it's already hard enough without those factors…ultra respect.
The pairs team event had all the big names performing, excluding Sui/ Han (CHN), so we were treated to some magnificent skating.
Short Program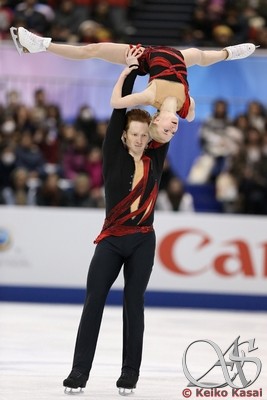 The undisputed winner of the short program was of course Evgenia Tarasova and Vladimir Morozov (OAR). Throughout their short program they displayed all the vital attributes needed for a successful pair team. They had unison, they had quality, and style. Their marks reflected this with them being awarded a PB of 80.92, and fully deserved it was! This couple has really stepped up their game over the last two seasons and will be hoping to continue their consistency going into the individual event!
Meagan Duhamel and Eric Radford took the silver medal position after yet another spell bounding performance to Without or without you by U2. Their performance had elegance, grace and passion. Their only wobble came on their side by side triple Lutz (not often seen in the pairs event), which will have cost them a few points, but their superior pairs elements showed exactly why they are 2 times World champions.
In third place was Aljona Savchenko and Bruno Massot representing Germany, even if she is Ukranian and he French… :)
Their routine, set to That man by Caro Emerald, is my favourite pairs program of all time. The characters they portray, in particular Aljona, are sublime. From the first beat of the music there is a story being told, and that story continues to the last sound of the track. The flow, charisma and flair is by far the best in the World in my opinion. They truly look as though they are enjoying every push of the blade, and because of that, I as a spectator, enjoy it with them! They will be hungry to deliver an Olympic medal in the pairs individual event, that's for sure.
For me it was a little disappointing not see Sui/ Han but I can appreciate their decision, maybe I'm just being greedy wanting to admire as much fine skating as possible!
The duo of Vanessa James and Morgan Cipres will be annoyed and frustrated with their performance in the SP. They showed much promise this season with 2 Grand Prix medals, a solid performance at European championships (although narrowly missing out on a medal), they came in to The Games as a dark horse with the possibility of causing an upset. They will need to build on that tentative start if they wish to put pressure on the elite.
Free Skate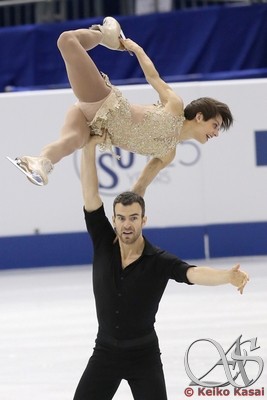 With the winners of the short program sitting out the free skate it was left up to the Canadians Meagan Duhamel/ Eric Radford to wow the crowd, and that they did! Included in their routine was the throw quad Salchow, which Meagan worked extremely hard to control. Adele's Hometown glory, is the backdrop to their phenomenal choreography and just as in the SP they delivered emotion and feeling, constantly building their power throughout the 4.5 minute journey. They had a very tough season last year, finishing a below-standard 7th at the World championships, but after their skate in the Free this week I think they will be amongst the medal contenders.
Valentina Marchei and Ondřej Hotárek (ITA) will have been very pleased to not only place second but also come away with a PB score for their free program skated to Amacord. Valentina used to represent Italy in the ladies category and switched to pairs after the Sochi 2014 games when Ondrej parted ways with his partner Stefania Berton. They had a one small mistake in the free skate, with the triple Salchow turning into a double so there is still room for improvement, which is encouraging. In a relatively short space of time they have become a very credible team, producing their best when it is needed. I get the impression that their characters and personalities are well matched and this is reflected in their connection on the ice. They are a pair who constantly entertain and are a real crowd favourite.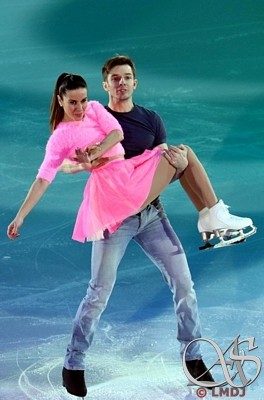 Third spot was taken by Natalia Zabiiako and Alexander Enbert (OAR). The third ranked Russian couple, performed a medley of music entitled The sleeping beauty, and for me, whilst they clearly have quality skating, edges and style, I find this program rather flat. By that I mean, I think they are ticking all the boxes, using their arms as they skate and including difficult turns for skating skills etc, but I don't feel that they believe in what they are performing. Other couples around them adopt a character and tell a story with conviction, which they lacked. They have only been coupled for a few seasons so hopefully their connection will develop and grow and they will give us performances of feeling in the future.
The pairs event is always a pleasure to watch and this was no different. I am really looking forward to seeing how it all works out in the individual event because anything can happen! Enjoy…
Check out our other Insider Reviews:
David Richardson's review of the Teams - Men and Ladies
Federica Testa's review of the Teams - Dance
Jenna McCorkell & Kevin Van Der Perren review on the Pairs
John Kerr's review on the Men
Don't miss our social media updates (containing text updates and fun pics) on Twitter and Facebook.