Olympic Games 2018 Insider Reviews: Stefano Caruso reports about Ice Dance
February 22, 2018
By Stefano Caruso
Photos © Andin, Stefano Caruso, Joy, Keiko Kasai, LMDJ
*Most photos not taken at the Olympics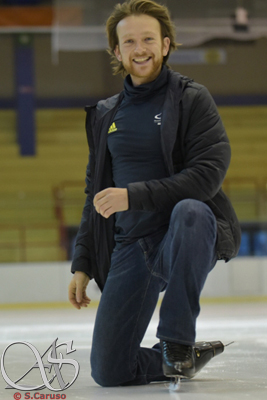 Hello everyone, I'm Stefano Caruso, a former ice dancer born in Rome. Figure skating was not very popular there at the time of my childhood, both from the social and the logistics point of view. But I had the luck to live very close to an ice rink, so rather than play soccer I asked my mom to sign me up for a "Learn to Skate" program, where it all began. I competed internationally for Italy both at Junior (Gold Junior National champion, Gold at Junior Grand Prix, 6th at Junior Grand Prix Final, top 10 at Junior World Championships) and Senior level (3rd at Senior Nationals and Grand Prix, 16th at Euros).
After the 2010 Olympics I teamed up with my partner Tanja Kolbe and started competing for Germany. We moved to Milan to train with Barbara Fusar Poli. In a short amount of time we achieved 8th place at Euros and 21st at Worlds and were 2nd at German Nationals. We participated in the 2014 Winter Olympic Games in Sochi and after the World Championships in Saitama, Japan we decided to retire.
After that I started my career as a figure skating coach in Milan and now, together with my former coach Barbara Fusar Poli and thanks to our club IceLab for the facilities, we have the opportunity to keep building a strong foundation for our future and let our international ice dance school grow.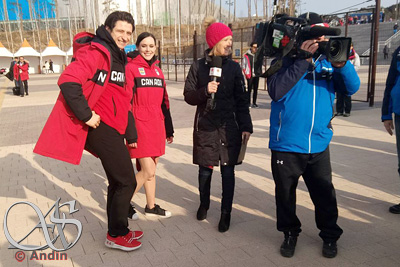 Talking about the ice dance event I have to admit - what an Olympic Games! Even if I had spent two sleepless nights watching the ice dance competition (in Italy the broadcast started at 2AM and lasted till 6AM), it was really worth it.
Tessa Virtue and Scott Moir took the lead after the SD with a strong skate. Despite losing the FD segment to the French, they were able to keep writing history of our sport by winning another gold medal (like they were not legends already). They achieved all level 4s in all their elements (SD + FD). I have to say, I don't get along very well with their SD music selection. Rolling Stones and Eagles for a Latin dance, really? Maybe it's because I still have in mind their last Latin program to "Hip Hip Chin Chin". But for the FD, "Moulin Rouge" suited them perfectly and was a really, really smart choice (even though this music is way overused in the figure skating world). They are fiery and aggressive. Their program is concrete, the story they tell is very accessible to the audience, easy to connect to, and expressing feelings everyone can recall and feel. They're really good at manipulating the male and female roles. They capture your attention from the first till the last second.
Gabriella Papadakis and Guillaume Cizeron, what to say. My judgment might not be very objective, but I feel that without the costume malfunction during the Short Dance, they would have won these Olympic Games. But life sometimes is like this, the worst nightmare of all female skaters happens during the Olympics while you have to perform against one of the best ice dance teams ever in the history of this sport and you know that any small imperfection is going to cost you. Total respect for being able to finish the performance under this kind of circumstances and pressure. Unfortunately, you could see that they were not relaxed, and their focus was not only on the skating.
I do like Tessa and Scott, but I love the skating of those two. Gabriella and Guillaume's artistry comes from such a deep place; it can be more abstract but no less emotional. They are one unit, not only technically but artistically. We don't think it's sport when we watch them. That is the philosophy I do embrace in skating.
This is what I wrote after the Grand Prix Final on their FD: "I do cry listening to the Moonlight Sonata, I can only imagine because of the depth to which it reaches the soul, leaving me thirsting for more, but then bring me back down to earth. A somber mood piece, it just happens naturally. Grey skies, the rain, wind blowing across a field at night,
a chilly beach without swimmers, a lonely leaf spinning to the ground… It is a reminder of the ups and downs of life, and that everything is finite, with a beginning and an end."
I do still think the same. Good luck to this team in their future. It's all to be written.
Maia and Alex Shibutani are "the perfectionists on the ice" and their biggest strength lies in their precision and technicality. Being strong lead them to this well-deserved bronze medal.
About their FD - I know it's a trilogy, but I think it's a bit too similar to their previous programs; the performance though was very catching. A perfect musical spot was found for each element and the program had a crescendo with a climax during the twizzles that gives you goosebumps. As an ice dancer, I always love to watch their fast and perfectly synchronized twizzles.
Madison Hubbell and Zach Donohue finished in 4th place. I did like their Short Dance and because of the characteristics of this team, they can give this dance a very mature interpretation. What I love about them is how strong and effortless their partnering is. They don't need to literally hold a position, I feel they have a point of connection through which their bodies are moving together as one. They are also a very solid team - great base technique and long lines. I also like their Free Dance but unfortunately it just was not a good day for them. Be resilient guys!!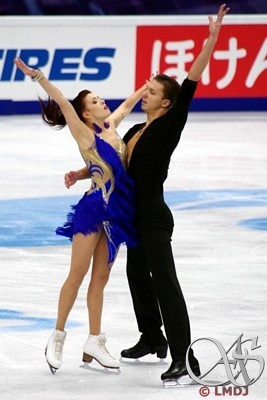 5th place was taken by Ekaterina Bobrova and Dmitri Soloviev. Their Short Dance was the missing link of the competition, the "missing" Russian top couple. It wasn't the conventional ballroom way of doing a Latin dance, but they managed to let me feel the Latin spirit of this dance anyway through their aggressive interpretation and powerful skate.
The "Oblivion" theme for their FD was a theater piece. Sometimes to appreciate some programs, you have to watch them with honest eyes and I found it very emotional from the beginning till the end. Elements are well melded into the choreography and the change of tempo keeps up the attention. The ending and their reaction was touching. We, athletes, live for those moments.
Anna Cappellini and Luca Lanotte finished 6th. Perseverance is the term I want to use for this team. I know them since I remember myself on the ice and I know how hard their path was. Their performing years after years, always at the top level, is something to be respected. The saying "Italians do it better" can perfectly fit with their SD!!! Their Latin was A LATIN - very dancy, sexy and Mediterranean.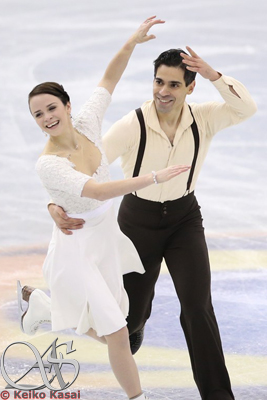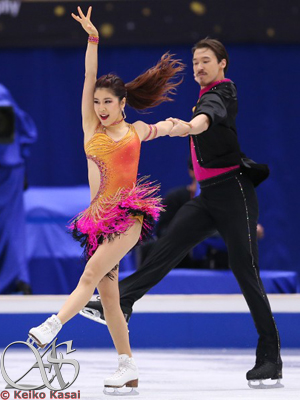 I do have to mention Kana Muramoto and Chris Reed's and Piper Gilles and Paul Poirier's Short Dances.
I've known Chris for a long time. I know his personality, we are good friends and I am very proud to see his evolution as a skater and a man in the past years. You can see he is enjoying and embracing the full spirit of this Latin dance and thanks also to Kana who is a very talented skater and performer, they can hook you up right from the beginning. And I have to mention that you can see the "Italian touch" of Massimo [Scali]. :) Their performance was impressive - something I want to go and watch again, because it's Latin with skates!
Piper and Paul, I am one of their biggest fans! I really do like this year's Short Dance. You can't say it's not Latin because then you should dig a bit more into what a Latin dance means and you will discover this Bossa Nova underwater world which is awesome, and it just fits them perfectly. They are exactly like the Bossa Nova they chose. Every single move, detail, expression is deeply researched, and their goal is to find new ways. I always admired that. They are the "outside the box" couple for which nobody can guess what their music selection will be the next year!!!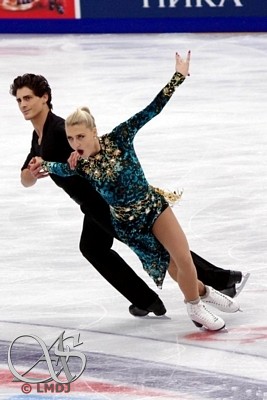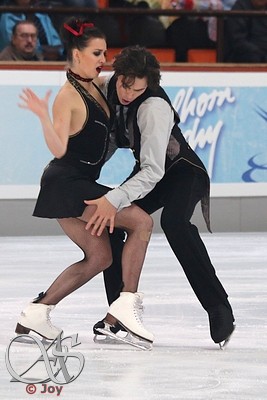 I also would like to congratulate my Slovak team, Lucie Myslivečková and Lukáš Csölley, who, despite a really bad injury to Lucie's shoulder, made it to the final and ended up in 20th place.
About costumes, I have to say that I don't give too much importance to dresses… even though to my personal taste Madison Chock's new SD costume was not something I liked. I preferred her old one way more.
Overall, I do like the concept that ISU wanted to give to the Short Dance this year. Nevertheless, from my personal point of view I find the partial step sequence generally not yet ready to be really choreographically implemented as an outstanding element. For the public/ judges to feel the connection and for the skaters to seek that connection while doing turns in hold to Latin rhythms and also behave like ballroom dancers is technically and mentally not very easy. You are conscious that a well-made turn is worth way more than being in character for the dance. That is why we start to see beautifully choreographed partial step sequences only in the last groups, where the strong skating skills quality is a prerogative to assure that kind of confident state of mind while performing turns.
The public also seems to go "WOW" when they see a couple dancing and moving sexy and Latin during one of the permitted stops, especially in the not touching midline step sequence!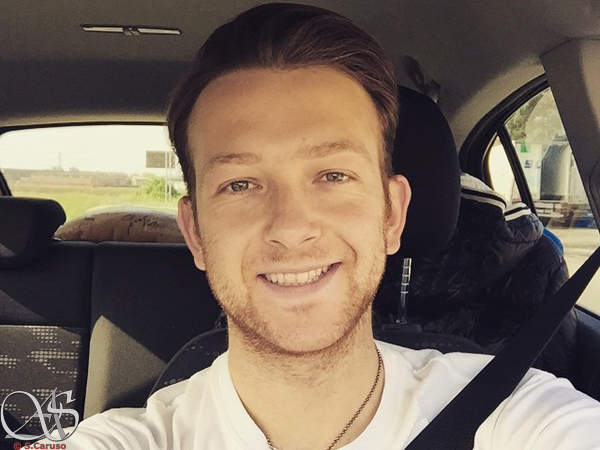 I remember the Olympics in Sochi. 4 years later I can tell that being an Olympian is something you work for your entire career, and once you are there, you really do want to enjoy every second of it - from the public to the volunteers, from the performance to the spirit in the village. The hard work, the not-so-easy path, the failures that all the athletes have been through are paid back. I was very happy to see a strong Ice Dance event. All the teams came in their top condition and it was a fair competition.
I also want to mention the gold medal of Aljona Savchenko and Bruno Massot – what a fairy tale! I was there in Sochi when Aljona and Robin missed the gold. One thing I can tell you - just looking into her eyes I was sure that she would find a way to be at the next Olympics and fight for the gold again. It happened, and it filled my heart with joy. I hope someone will make a movie out of this story, I would definitely go out and watch it!
SEE YOU ALL at the World Championships IN MILAN AT OUR RINK!
Check out our other Insider Reviews:
David Richardson's review of the Teams - Men and Ladies
David Richardson's review of the Teams - Pairs
Federica Testa's review of the Teams - Dance
Jenna McCorkell & Kevin Van Der Perren review on the Pairs
John Kerr's review on the Men
Don't miss our social media updates (containing text updates and fun pics) on Twitter and Facebook.