Crystal by Cirque du Soleil
April 18, 2018
By Tina Tyan
Photos © Tina Tyan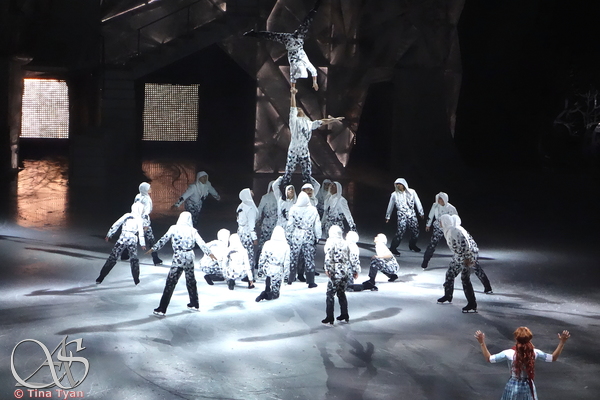 Ever since a video surfaced in late 2016 showing Kurt Browning at a Cirque du Soleil workshop, experimenting with skating with an aerialist, I've been very curious about what he was doing with Cirque. Then, in 2017, Cirque du Soleil announced their very first show involving the ice, called Crystal. They began releasing intriguing behind-the-scenes videos and eventually did a live interview with Kurt, Ben Agosto, and Marilyn Langlois, the skating performance directors of the show. I even got the opportunity to interview Kurt about the creation of the show in November 2017. In the meantime, the show has been touring various cities in North America. But it wasn't until the afternoon of March 31, 2018, that I finally got the chance to watch the show myself, in person, at the SAP Center in San Jose.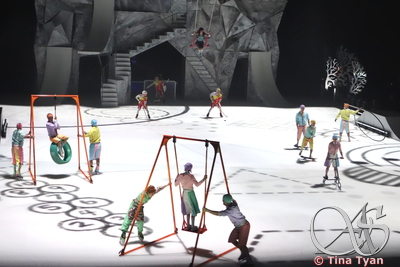 So, what did I think? In short, Crystal was an entertaining visual and auditory feast with some truly awe-inspiring acts that was much stronger in the second act than the first, and that didn't really utilize skating to its fullest potential. Everyone I went to the show with enjoyed it. The set design, and particularly the lighting design, was amazing. They really used lighting to paint the ice and create stunning visual landscapes. The music was dynamic and dramatic, blending obviously pre-recorded orchestrations and vocals with live musicians who often wore skates on their feet as they played. There was a basic story providing a throughline connecting the disparate parts of the show, which worked, more or less, in drawing together elements that otherwise wouldn't make sense together.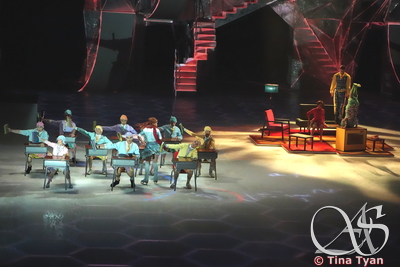 Essentially, the show follows the dream journey of a girl, Crystal. The show opens with a montage of shadow images and voices, of her parents, teachers, and peers constantly wondering why she's always off in her own world, always dreaming, never focusing or paying attention. She finally runs out to the pond to skate to escape, but falls through the ice. The rest of the show is basically her moving through her dream world, encountering her shadow self(s) and her fears of an ordinary life, from distracted family to taunts on the playground to the conformity of corporate life to the prospect of courtship and romance. She eventually learns to embrace herself and be ok with who she is, and is finally ready to break through the ice to return to her life. Not every number wove seamlessly into this underlying progression, but knowing it was a dream world helped tie in pieces that otherwise would have seemed incongruous. Dream worlds are all about incongruity! My friends and I could have done without the actual voiceover, though.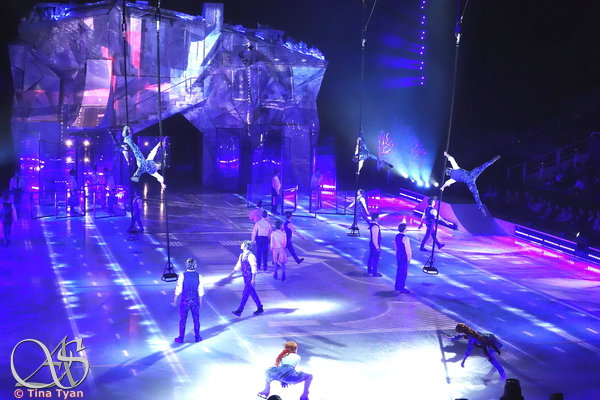 As a Cirque du Soleil show, though I admittedly haven't seen that many, Crystal is a success. It's beautiful, it's thrilling, it has elements of circus traditions such as clowning and juggling and trapeze as well as amazing aerial and acrobatic acts involving incredible feats of balance, flexibility, and strength. As a figure skating show, I thought it was weaker and, more importantly, for the most part didn't live up to the potential that the ice offered. A lot of the time, the majority of the performers on the ice didn't even have skates on. The skating often felt a little too traditional and not quite thrilling enough for a Cirque show, though that might be because I'm used to seeing headbangers and backflips so they offer me less of a wow factor than they might a general audience. The cool experimentation and tricks shown in the behind the scenes videos and talked about in my interview with Kurt largely seemed to have not been utilized in the final product. With a few exceptions I'll talk about shortly, it would have been cool to see a deeper integration of ice and circus. I still recall Violetta Afanasieva and Pete Dack and their integration of circus and pairs skating, particularly hula hoops. Something like that would have fit in well. For the most part, when skating and circus coexisted on the ice, the skating seemed mostly there to offer more speed and flow than would be available to regular dancers, and to maybe add a bit more interesting texture to a number so we weren't just sitting and waiting for an acrobat to set up the next part of the act. Otherwise, the ice did offer an additional thrill simply because it is so hard that any fall would be that much more devastating should it occur.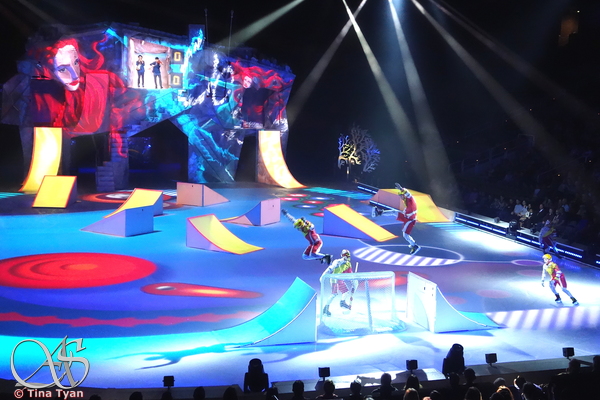 This isn't to suggest that there weren't any good skating-specific sections, or that there wasn't any interesting integration of worlds. The first act ended with a thrilling "hockey" number that utilized a collection of ramps to send its "hockey players" flying through the air in Cirque's version of the X-Games. This number also oddly included the clown character that kept recurring throughout the show (though particularly the first act) and a fairly gratuitous shout out to the San Jose Sharks hockey team. It was one of the most exciting parts of the night. The second act had a lot more interesting figure skating numbers. One number utilized more synchronized style skating to evoke the uniformity/conformity of office worker drones, before transitioning into a thrilling bit with acrobats on poles which was exciting, even if I missed its thematic relevance.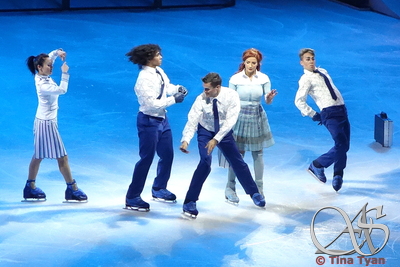 Perhaps the poles were meant to smash the walls of conformity since this number led into the only part of the show that let four of the charismatic skaters actually show some individual personality outside of embodying one of Crystal's shadow selves. I have to admit that I only recognized Shawn Sawyer (I was told Scott Smith is another one, as is Zabato Bebe. I don't know who the female skater was). The four skaters for the most part humorously try to one-up each other, so there were backflips over people and handstands and flips and other singles skating tricks. The four skaters inevitably were sucked back into the conformity of the group, though, and became part of the faceless ensemble in cubicle land. This ensemble also provided the texture around a pretty impressive chair-stacking segment, skating around as he set up the next several chairs.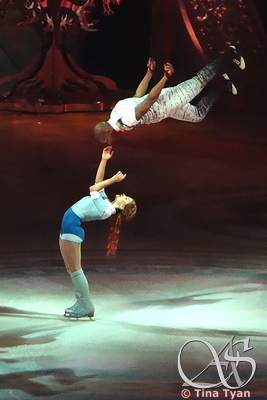 The second act also had the "courtship" number that included three or four couples skating, and the best integration of skating and circus within the show. The parts with the pairs skating together were lovely and featured some exciting pairs tricks, often in unison. Some of them were tricks that the general audience may not have seen before, and were thrilling in their own right. However, the number for me fell short for me in terms of being able to connect with me emotionally or from a storytelling perspective. But I may have been spoiled by years of seeing group numbers like "Try" from Stars on Ice. There was also an odd bit where the musicians were pushed in on a piano and they lifted Crystal up to stand on the piano as it moved. This would have been a cool image had Crystal not wobbled noticeably every time the piano shifted direction. On the other hand, once the aerialist entered the picture as Crystal's lover, the potential for bringing ice to the world of Cirque was finally realized. Aerial straps have been done in figure skating before, admittedly, but Cirque's version was interesting choreographically, and I think was more effective for not forcing the aerialist to skate. Instead, just as he lifted her into his world, she used her skates to propel him and interact with him. This resulted in some very cool imagery and very impressive tricks.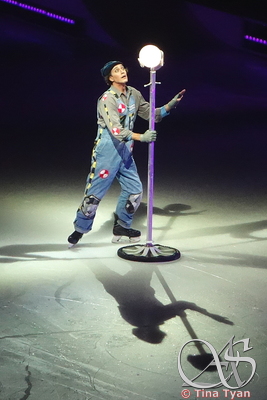 There were some attempts that integrated skating (or at least skates) with performers that were less successful, or at least less interesting. The juggler wore skates on his feet, but spent parts of his number being lifted on the shoulders of non-skating performances, and actually lost balls more than you'd expect from a number like that. He did skate around a bit while juggling, but it just wasn't that amazing to watch. There was a "Crystal" on a "swing" (from the playground scene) that became a trapeze who wore skates on her feet the whole time. I was impressed since I would imagine that the added few inches would throw her off quite a bit, not to mention how different it would be for the trapeze artist just swinging around and doing tricks with ice skates on her feet. But a lot of that number also just felt like all she was doing was swinging really hard, and doing it to a version of Sia's "Chandelier" just seemed a bit to on the nose for me. There also was a clown number which thematically strongly reminded me of Kurt Browning's Slippery Side Up number, with the clown falling "in love"/obsession with a light that moved around the ice. It obviously wasn't as intricately put together a number, but it was charming and amusing. I give props to the clown because I actually wasn't sure if he was a skater who learned to clown or a clown who learned to skate.
The last two acts before the finale were, respectively, the strongest pure skating number of the show, and the coolest, most impressive acrobatic act. The number featuring the four Crystals had some of the most interesting skating choreography, weaving the four women together in both different ways and in unison, kind of playing with the notion of these shadow selves and their similarities and differences. I just wish it had been lit a little brighter, though I understand that the dark lighting fit with the theme. The artist playing Crystal in the last act was astonishing; strong, flexible, and fearless. The transitions between her being carried and tossed around by members of the ensemble on the ice to flying into the air (and then dropping back down) with a trapeze artist were thrilling and incredible. I can't even do justice with words, it needs to be seen to be believed.
The show ended with Crystal breaking back through the ice, having learned to accept herself, and rejoining the brightly lit aboveground world. She is welcomed back by her loving and newly attentive family, and one of her shadow selves paints the words "The End" on the ice with her skates. But of course, it's not quite the end yet, as the entire cast comes back out on the ice to joyfully show off their skills in a frenetic, busy, but exciting finale.
Although it started a little slowly, Crystal ended up being a wonderful way to spend a couple hours absorbed in another world. I can't believe that what I saw was the second of three performances in the same day. I don't know how they do it, but those performers and artists really gave it their all and put on an amazing show for the audience. I hope this show inspires more skaters to widen their acrobatic skillsets and more acrobats to learn to skate so that future iterations or future Cirque shows that involve skating can go to even more amazing places that really blend the two worlds.