The 2017/2018 Japan National Championships
January 14, 2018
By Atsuko Kuryu
Photos © Keiko Kasai

The Japan National Championships were held December 21 - 24 at the Ajinomoto Main Arena in Tokyo, Japan. In addition to crowning national champions, the competition served as a means to select the Japanese Olympic team, almost a month ahead. Since top favorite Yuzuru Hanyu was still out with injury, 2 more skaters would be chosen in the men's discipline. Two ladies were also to be selected as well as one couple each in Ice Dance and Pairs.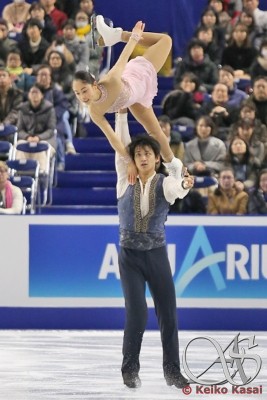 Pairs
Three pairs appeared on the ice. The winners would become the Olympic representatives, so much was at stake. Unfortunately the biggest favorites, Sumire Suto/ Francis Boudreau Audet, withdrew from the competition. Miu Suzaki/ Ryuichi Kihara won the title with an overall score of 160.71. They teamed up only 3 years ago, but they are veterans and seemed to be slightly superior in both experience and ability. Ryuichi said they have improved most of their elements, but that they need something more besides technique. He said, "I know we skate like two single skaters together. So, I think we need to work on transitions and our liaison as partners". Miu said they were very upset but still felt she had done well in such a tense situation. When they were told they won during an interview in the mixed zone; Ryuichi collapsed and said, "I am so relieved, I can sleep well now!" Narumi Takahashi/ Ryo Shibata followed them with 143.93 points. They had two mistakes in the short program but delivered a nice free program (Turandot) with tenderness. The best thing about their performance was their lyricism. Their beautiful step sequence received level 4 in the short program, and the choreo sequence in the free was excellent. The junior national champions, Riku Miura/ Shoya Ichihashi finished 3rd with 140.75 points. They were 2nd in the short, but too many mistakes made them 3rd overall. Shoya seemed frustrated: "We almost repeated the same bad performance as in Junior Nationals. We couldn't manage what we have worked on the past month since then". He admitted that they were still not quite at the level of other seniors so they will work even harder to prepare for the World Junior Championships.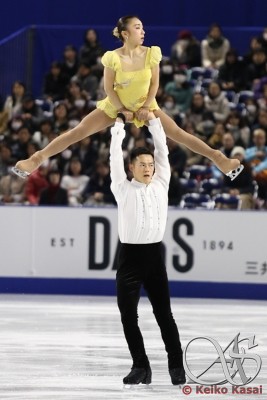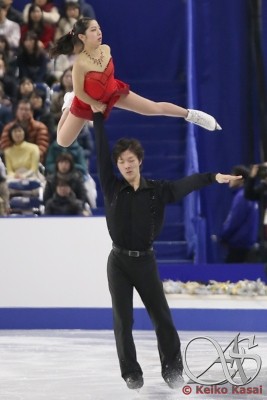 Ladies
Satoko Miyahara won the 4th consecutive title with a big score of 220.39. She was second in the short program, only 0.36 points behind Kaori Sakamoto, but delivered a fabulous free skate and received amazing 147.16 points. Physically she is very small, but once she gets on the ice she always looks larger than life. She used her body fully and skated fast and smoothly on the ice.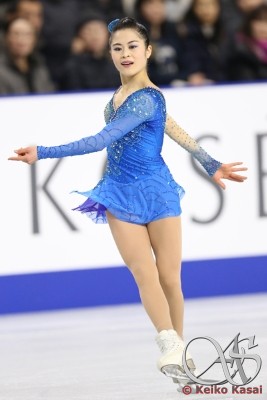 Her program, Madame Butterfly choreographed by Tom Dickson, presented the story very well. One of the judges gave her 10.00 for her interpretation of the music. Her coach Mie Hamada said, "She tends to work too hard, so I told her she might have a chance for the Beijing Olympics in 2022". Satoko explained: "I know why she told me that and I'm very grateful for her. But I wanted to fight this year for Pyeongchang". She said she was finally able to win the title again after a long period of rehabilitation and hard work, but it's a start for the future. The leader of the short program, Kaori, skated last and finished second with 213.51 points. She was 4th in the free skating, but the big margin in the short program kept her second. She presented her short program with speed, dynamism and gorgeous jumps. "I didn't think I'd be able to compete at this level at the beginning of this season, so I'm very happy. I was able to stand here because of my coach's big support". Kaori continued: "When I was a junior, I enjoyed skating with my friends even in competitions, but now as a senior I regard them as rivals." The junior national champion, Rika Kihira scored 208.03 and won the bronze medal. After a disappointing 5th place after the short program, she nailed two fantastic triple Axels and ranked second in the free. Her movements were consistent and she is so flexible. "I think I was able to show the fruits of my labor. So today's performance will lead me to better performances in the future", she said in the press conference.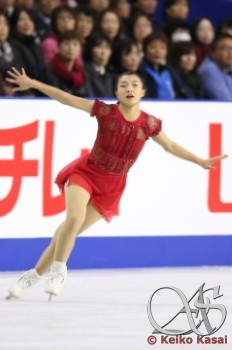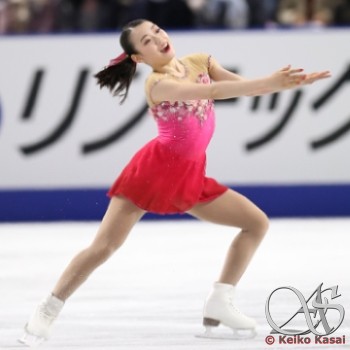 The strong favorite for the Olympics, Wakaba Higuchi, made one mistake in each program which impacted her result. She popped the double Axel in the short program, which was then of no value and turned the planned triple Salchow into a double. She stayed 4th overall but lost the chance of a medal, and her ticket to Pyeongchang was in danger. Both of her programs this season are amazing and suitable for her. She was very energetic and spread her power during her performance. Her overall score was 206.96. Mai Mihara climbed back up to 3rd in the free, after an unexpected 7th place after the short program. Her angelically pure free skate was so beautiful, but unfortunately a 5th place with 204.67 points was not enough for the big Games.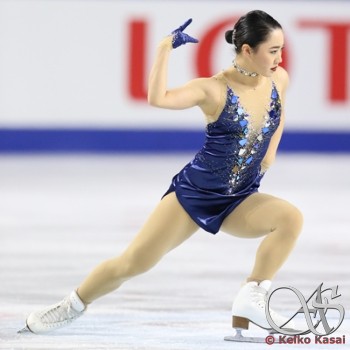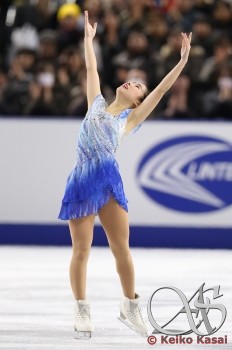 It was the same for Rika Hongo. She was 3rd after the short, her program was fantastic and she earned 70.48 points. But in the free she had 2 falls, 2 under-rotations and one attention and placed 8th scoring only 127.14. However, her dynamic performance touched the audience's heart. Rika recognized her improvement from last year and promised further achievements.
Ice Dance
Kana Muramoto/ Chris Reed dominated this category and won their 3rd title. Their overall score was 166.45. Both of their programs were excellently presented, especially the free dance, were they were very energetic and emotional to Barbra Streisand's singing. Their speed was great and they received 100.74 points which was their first time to score over 100. They said they were very happy about their performance and score. About the Olympics, they especially mentioned the team competition,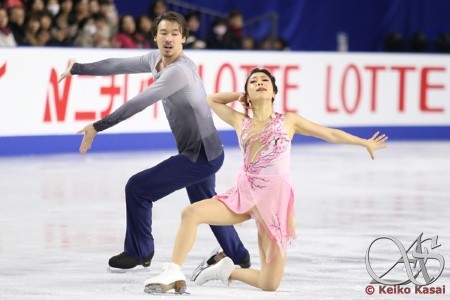 "In the Olympics, we would like to contribute to a medal in the team discipline because Japan has very strong men and ladies". Misato Komatsubara/ Timothy Koleto showed very good performances in wonderful sync. They made up a mature and charming couple and moved dynamically. "Last year, we went to Nationals just to show our performance, but this year, we felt like we were really competing here", Timothy said. He also congratulated Kana and Chris for getting on the Olympic team and revealed that he and Kana were rink-mates in Colorado when they were very young. They said they want to be serious contenders for the Olympics in 4 years. This young and fresh couple made the podium with an overall score of 130.27. Rikako Fukase/ Aru Tateno couldn't hide their frustration after the short dance, but seemed happier with their free dance. Aru said that nothing had been better than their performance in the Eastern sectionals a month earlier, while Rikako said she was very happy because she was able to compete at Nationals which had been her dream since she was very young.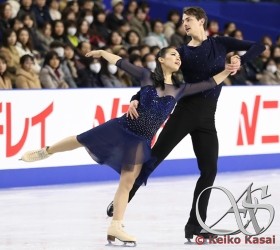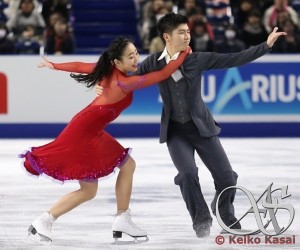 Men
Shoma Uno won his 2nd title with a big margin, but not as big as expected. He scored 283.30 overall and grabbed a ticket to Pyeongchang. As Yuzuru is already qualified, the last spot for the Olympics would go to either Keiji Tanaka or Takahito Mura, and theirs was the most heated battle in this event. Takahito, who was 3rd after a decent short program, then went on to an almost flawless free skate to Phantom of the Opera. He nailed 2 quads and triple Axels cleanly, but stumbled at the landing of the triple Lutz, the last jump in his program.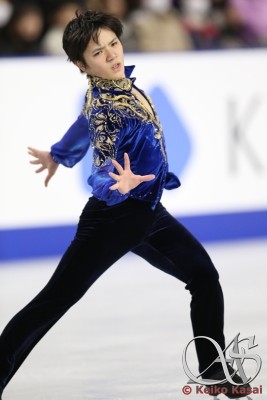 His long step sequence to percussions was passionate and emotional. He got 172.88 points for his free and 258.41 overall. Right after his fantastic performance, Keiji Tanaka took the ice. He got 2 violations for repeated jumps; quad Salchows and triple Axels, and consequently lost some point for the combination. His Federico Fellini medley was excellent, and the crowd in the venue believed their overall points might be very close. But Keiji scored 175.81 points and 267.85 overall, which gave him silver. The difference between them was bigger than expected, and it was the quadruple toeloop included in the second half of Keiji's program that decided whether he would become an Olympian or not. Takahito looked rather cool as he recognized the result and said: "I delivered 2 fine programs so I'm very much satisfied". He also commented on his fans: "Even though I performed poorly in both Grand Prix events, my fans never stopped cheering me on. I am very grateful for them". Asked how he felt about his 13th Nationals, he recalled his first Nationals: "It was the Torino Olympic trials. Daisuke Takahashi and other skaters fought for only one spot. And now I am here as a contender, it means so much to me". Keiji also reflected on his opening quad Salchows: "I entered with too much power. As for the quad toe; I was more relaxed and felt that the condition of the ice was so good that I wouldn't have to strain much". He then mentioned Yuzuru: "I miss him very much. During training I was thinking how nice it would be to be able to skate at the same big games. If only I could seize this great opportunity". Well, he did! Skating last, Shoma was off to a good start by landing 3 jumps including a quad loop. But after the level 4 step sequence he didn't have enough stamina to keep up the energy level. In the interview after his performance, he apologized for his poor performance. "I've repeatedly said I would skate better next time, but I haven't this far into the season. Stamina! It might be the reason", he said. About the Olympics: "I want to have really good training to increase my possibility to skate well there".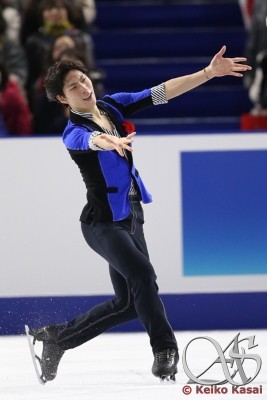 Kazuki Tomono was 5th in both the short and the free and ranked 4th overall with 231.21 points. He suddenly joined the top race after the good outcome at the NHK Trophy. He looked fresh and was very expressive on the ice, particularly in his West Side Story free program. But the lower PCS and some mistakes prevented him from standing on the podium. Daisuke Murakami, who had to withdraw from last year's Nationals as well as from the NHK Trophy, returned and showed off his characteristically tender and lyrical performance. He finished 5th overall with 230.95 points. He said: "I haven't decided anything about my future yet, but I will walk with my head high from now on".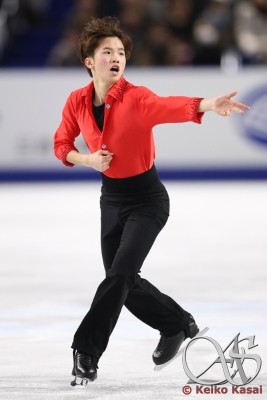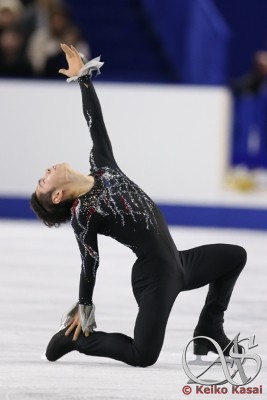 Scoring 225.76, junior champion Mitsuki Sumoto ranked 6th. He was very impressive in his free skate landing all the jumps cleanly and executing all elements perfectly. I especially want to mention Ryuju Hino. He is the same age as Yuzuru and Keiji, and was regarded a novice and later junior skater with great potential. But for many reasons, including injury,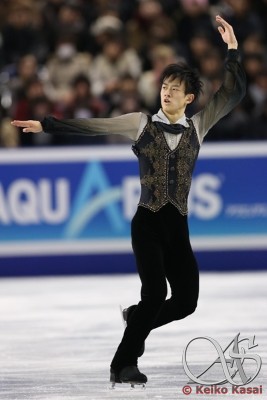 he was left behind by these 2 Olympians. However, upon entering this competition he seemed to harbor a secret determination. Although he has the ability to land quads he excluded them and aimed for flawless performances. After a fall on the triple Axel in the short program, he delivered a stunning free, landing all his jumps cleanly. He was so expressive that he had the audience eating out of his hand. He was 4th in the free and really showed his presence. Sota Yamamoto returned after 3 injuries and showed off his potential. After the first injury just before Junior Worlds 2016, things dragged on with 2 more injuries and following rehabilitation. At one time he seriously considered retiring, but changed his mind, much to our relief. And at this competition we came to re-realize what a gifted skater he is. Just about 2 months before Regionals, while still in rehab, he managed only single jumps. But now he finished 9th scoring 208.27 overall, and he included triples toes, loops, and a Salchow. Many in the audience who knew his long and difficult story were moved to tears after his performance. He said he will be back at Nationals in 4 years as a serious contender for the Beijing Olympics.
The once-every-4-years battle was over. There were skaters full of joy, and those who shed bitter tears. It had been a tough fight, but young people with athlete souls won't be stopped and will step forward again in the future. At the conclusion of this report I leave a prayer for the selected skaters to do their very best, and for the rest to continue with determination.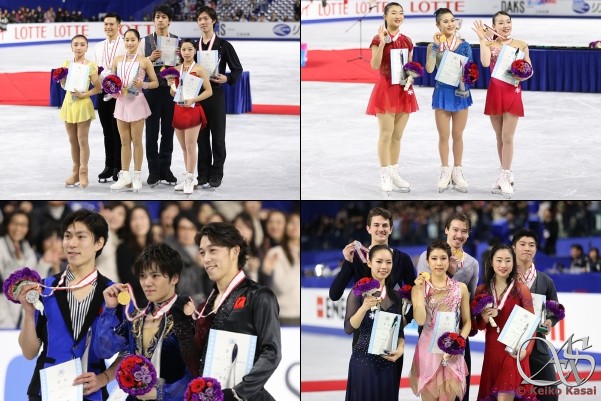 The Japanese team for the Olympics and other championships are as follows:

2018 Pyeongchang Olympic Games
Men: Shoma Uno, Keiji Tanaka, Yuzuru Hanyu
Ladies: Satoko Miyahara, Kaori Sakamoto
Pairs: Miu Suzaki/ Ryuichi Kihara
Ice Dance: Kana Muramoto/ Chris Reed

2018 World Championships
Men: Shoma Uno, Keiji Tanaka, Yuzuru Hanyu
Ladies: Satoko Miyahara, Wakaba Higuchi
Pairs: Miu Suzaki/ Ryuichi Kihara
Ice Dance: Kana Muramoto/ Chris Reed

2018 Four Continents Championships
Men: Shoma Uno, Keiji Tanaka, Takahito Mura
Ladies: Satoko Miyahara, Kaori Sakamoto, Mai Mihara
Pairs: Miu Suzaki/ Ryuichi Kihara, Narumi Takahashi/ Ryo Shibata, Riku Miura/ Shoya Ichihashi
Ice Dance: Kana Muramoto/ Chris Reed, Misato Komatsubara/ Tim Koleto, Rikako Fukase/ Aru Tateno

2018 World Junior Championships
Men: Mitsuki Sumoto, Sena Miyake
Ladies: Rika Kihara, Mako Yamashita, Yuhana Yokoi
Pair: Riku Miura/ Shoya Ichihashi