NHK Trophy, day two: Ladies' triple Axel galore and the men's tumbles
November 11, 2018
By Atsuko Kuryu
Photos © Keiko Kasai
The excitement in the venue, where enthusiastic fans gathered from early morning, was even greater today. Before 3 podiums with champions were presented, we enjoyed the rhythm dance which turned out to be a very interesting competition as well.
Rhythm Dance
Tiffani Zagorski /Jonathan Guerreiro of Russia won the rhythm dance with a very sharp performance. They had boldness and speed and their passionate movements matched the Tango music well. The high score of 75.49 points (a new season's best!) surprised the audience and the applause was roaring. Jonathan said they were happy about their performance today and would like to do the same and a bit better tomorrow.
Delivering a beautiful performance with good flow, USA's Kaitlin Hawayek /Jean-Luc Baker (pictured in the collage below, like all other named skaters - ed) ranked 2nd with 70.71 points. They moved very fluently and the elements were done smoothly, especially their amazing curve lift at the end of the program. Jean-Luc said that he had an accident in August which resulted in a concussion, so they were happy just to be able to come and join this event. Rachel Parsons /Michael Parsons, also USA, are 3rd, only 1.64 points behind. It was incredible to see how synchronized they are! Michael said this was their first Grand prix in Japan and that they were very happy for getting such good score here.
China's Shiyue Wang /Xinyu Liu showed off a fantastic midline step sequence earning 66.27 points which landed then a 4th place for now.
Pairs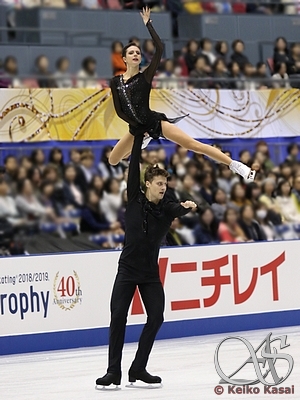 Natalia Zabiiako /Alexander Enbert claimed the title with an overall score of 214.14 points. They seemed very confident in their dramatic and near perfectly performed Toi et Moi free program. They collected +GOE for all the elements, and said they were 100% satisfied with today's performance because they completed all the planned elements very well.
Cheng Peng /Yang Jin were so smooth and had a good flow through La Vie en Rose. Their speed and how they deliver their lifts looks so effortless. They scored 136.58 points for the free and 207.24 overall, which earned them a silver medal. Yang was fine with their performance because they renewed their personal best.
Alexa Scimeca Knierim /Chris Knierim reached the podium, up from 4th in the short program, with 190.49 points total, which was only 0.83 ahead of Kirsten Moore-Towers /Michael Marinaro. Alexa /Chris were very soft and tender to the mellow Wicked game, while Kirsten and Michael had some minor mistakes and finished 4th. Alexa appreciated their performance today for which they earned a season's best and got a very good response from the audience. She said she felt like they might be going in the right direction with the coach change, although it is not final yet.
Following today's results, Natalia /Alexander and Cheng /Yang got tickets to the Grand Prix Final.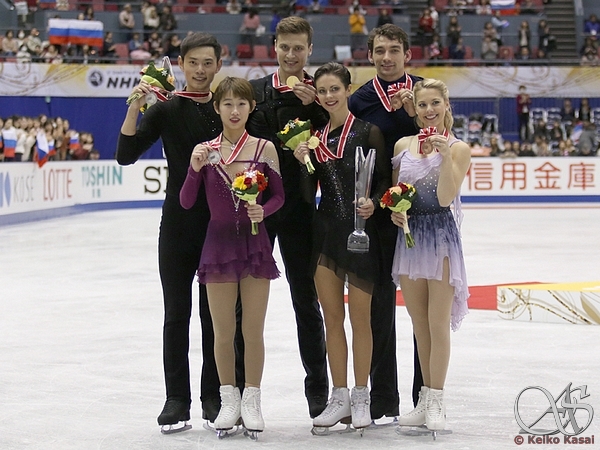 Ladies
The most exciting moment of the evening came with the Ladies' free. There were many stunning performances and neck to neck fights.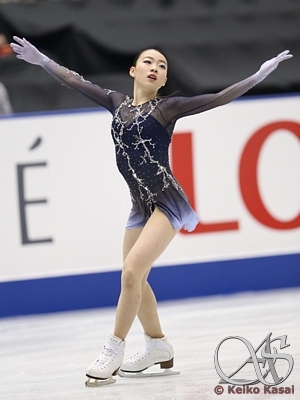 Rika Kihira, who was only 5th after the short program, bounced back to win the title after landing 2 perfect triple Axels. She landed all other jumps cleanly and piled up level 4 elements. Her score was an incredible 154.72 and 224.31 overall. She was not only amazing technically, but also very graceful. She admitted that she felt worried about her triple Axel yesterday, but managed to adjust her mindset and could challenge it with confidence today. It was hard for her to take in that she had just won her first GP event!
Runner-up Satoko Miyahara showed a stunning free to Invierno Porteno and received 143.39 points. She was elegant and at the same time strong, and very artistic in the way she used her body, especially arms and hands. She commented on her performance that it wasn't bad, but needed something more to win, so she will work harder.
Overnight leader, Elizaveta Tuktamisheva was solid in her upbeat You Don't Love Me. Her score was 142.85 for the free and 219.02 overall. She would have needed 5.30 more point to win; perhaps including one more triple Axel in her program. But she said she was happy because she skated better than at Skate Canada.
Mai Mihara was so elegant and graceful in both of her programs, but in her The Mission free a planned triple toe turned double and she lost some levels as well. Consequently, she finished 4th with 204.00 points total. Mariah Bell seemed to enjoy her flawless performance and made the crowd as happy as she was.
Eunsoo Lim was both elegant and beautiful, but unfortunately fell on her triple Salchow. She placed 6th with 194.15 points.
Men
Favorite Shoma Uno dominated the men's competition. Including 4 quad attempts, he scored 183.96 for his free in spite of some jumping flaws. His Moonlight sonata was filled with enth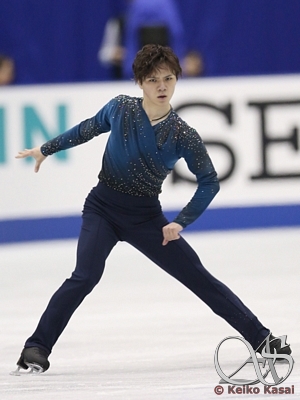 usiasm and passion and he earned 276.45 points overall. He was unhappy with the missed combination, but said at least he was happy that he is now qualified for the Grand Prix final.
Sergei Voronov nailed a quite high quad toe as his opening jump and then landed most jumps cleanly to get 162.91 for his free. He was one of very few skaters who skated almost flawlessly.
The men had a kind of mediocre competition today and certainly paled compared to the ladies. As we witnessed painfully many falls and popped jumps, people were excited for this veteran skater whose performance involved very few mistakes. They loudly cheered him on and gave him a standing ovation. Later, in the press conference, Denis Ten, who passed away this last summer, was mentioned as he choreographed Sergei's free program. Sergei said he was quite happy about today's performance and felt Denis must be watching him from somewhere up there and be happy too.
As a surprise for skaters and audience alike, Matteo Rizzo made the podium through a consistent performance to the Rolling Stones; his only major mistake was a fall on the quad toe. Matteo is young and fresh and was very excited about his bronze medal; he said he was still trembling. His earned 224.71. Vincent Zhou finished 1.29 points behind, and just off the podium. He had many under-rotated quads at Skate America, so now he included only two quads in the planned elements. He popped one but landed the other and all the triples cleanly. Poor Dmitri Aliev didn't have a good jumping day and slid down to 5th overall with 219.52 points total. Sota Yamamoto collected 213.40 points and stayed 6th. Although his jumps were off today, he is a very expressive skater.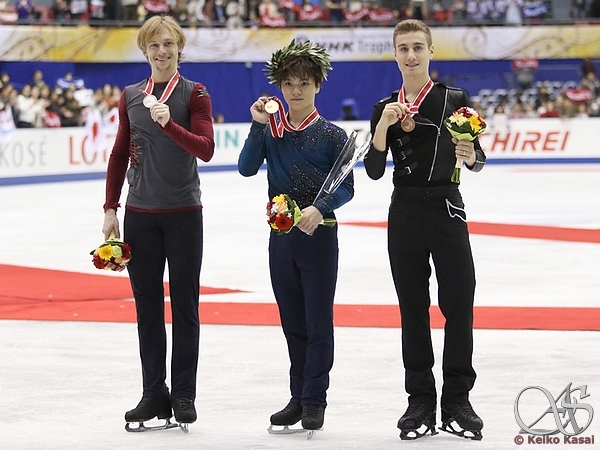 Only one category remains, the Free Dance. And there will be a special event called Legends On Ice, where some NHK Trophy winners will perform legendary programs. Who will be there and what they will show? We look forward to it and tomorrow we will know!
Click image for larger image