Report from the 2019 Internationaux de France
December 4, 2019
By Polymnia
Photo © Polymnia
After any competition, from Novices at B Series, late winter events to major ISU competitions, once the excitement, stress and stardust has settled down, after all is said and done, what remains is a collection of images, sounds and emotions which, when put together, loosely tell a story, which stays with me after the immediate, precise memories have started to fade. As someone who works primarily as a photographer, I feel most at ease sharing these stories through images: when going through all the pictures taken on a day, practice allows me to judge efficiently which ones are decent, and among those discern rapidly those that capture precisely what I saw, the emotions I want to share. Communicating the same by writing this, on the other hand, feels clumsy, spending long minutes weighing each word against the memories - so please bear with me!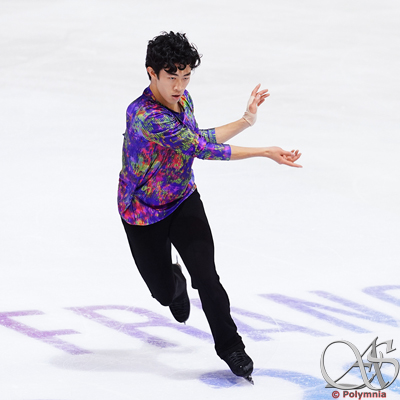 The Men's competition (rather oddly) opened both days and overall, it came as a confirmation of several trends that were sketched over the course of the previous season(s) and had started (or continued) to materialize during the early Challenger season.
Most winners at GP France were safe bets and Nathan Chen was no exception. While his free skate run wasn't quite as imperial as it had been back at Skate America, he was still head and shoulders above the competition, from the first practice until the last minute of his free skate. A lot can be said about his skating although little that has not been said already, but two things really struck me more so than I would have expected: for one, seeing him live again was confirmation that his base skating, the quality of his manipulation of the blade, had progressed substantially since I last saw him, at Worlds 2018 (something I suspected but that I find difficult to ascertain through television images alone). There are modulations in speed and depth that weren't there a year and a half ago.
The other is the ocean of calm he seems to be immerged in, both on and off the ice. There is remarkably little distance between his on- and off-ice persona, once you remove the showmanship that comes out to play in parts of his programs such as his Rocketman steps sequence. He makes things look straightforwardly easy on the ice because, from his answer to a French journalist during the post-competition press conference, it is a reflection of his outlook on life - his juggling of an elite student and figure skating world champion careers: pragmatic challenges that demand pragmatic solutions even if he'll concede that it can get a little intense at times. While there is no doubt pride in what he's accomplishing, it is quiet and self-assured and makes him all the more likeable for it.
Interestingly, both Alexander Samarin and Kevin Aymoz mirrored each other's upward trends - while coming from opposed ends of the technical / artistical-leaning spectrum, Samarin has been a skater that foremost relies on his technical ability to carry him to the podium, first in juniors and now in seniors, but it is also clear that he is starting to come into his own skating, to find his own voice. There is still something a little hesitant, a bit clumsy about it, but being able to skate to Blues for Klook and make it work on any level is in itself evidence of the progress he is making right now. Kevin Aymoz meanwhile is growing in confidence mentally and technically, which in turns gives him even more lattitude to do what he does best, express his emotions and share a part of himself through the music. Watching him, there is really a sense that this is a skater who is starting to piece all aspects of his skating together, to turn it into a whole that is bigger than the parts. Doing so in front of his home crowd gave it an extra dimension on the day: heightened emotions; and maybe that is why he couldn't contain his tears after both performances - something he says he still needs to work on.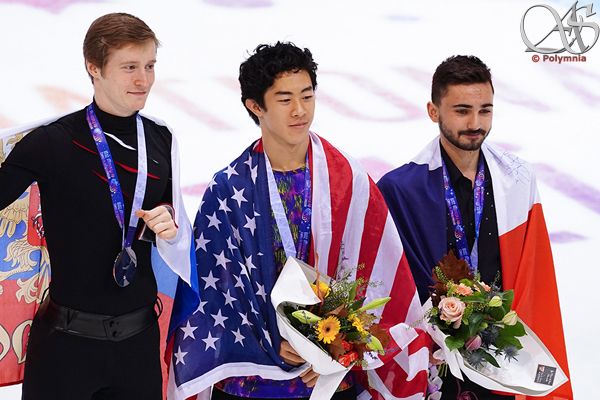 Shoma Uno was moved to tears too after his free skate, but his were bittersweet. If GP France came as a confirmation for him too, it was that everything was not well. Everyone, when broaching the subject, would repeat the same word, as if willing it into existence: coach. He needs a coach. That is certainly true, and Shoma himself seems to have come to the same conclusion (and has since said that he would clarify his coaching situation around the New Year), although he also refused to blame a lack of coaching for the issues that he encountered during the week. But more than just a coach in the literal sense of the word, he needs *someone*. More than the skating, what struck me was the forlone figure he was cutting, almost withdrawn, whenever he had to come to the press room for a draw, in the mix zone or even in practice. This came in sharp contrast with images from Cup of Russia a few weeks later where he was coached for the duration of the competition by Stéphane Lambiel after having spent a couple of weeks training in Switzerland.
But besides the confirmation that he needed a coach at his side (a thought that he had already articulated, albeit less urgently, at the Finlandia Trophy) there is at least one positive that came out of his ordeal: he *knows* that he has fans who support him both in Japan and overseas, but he had seemed hesitant to truly believe it. The crowd at the Patinoire Polesud left him in no doubt that that they supported him, unconditionally, both during his performance when it felt as if they were trying to have him land his jumps cleanly through their collective will when his technique let him down, and after, when the realisation suddenly hit him and brought him to tears - something for which he later thanked them, first through the press in the mix zone and the next day back on the ice.
I feel "excitement" probably comes closest to define my experience of the Ice Dance event, not in any small part because Ice Dance is fairly predictable in terms of results, even if it is less so now than it used to be and so it is easier to just sit back and enjoy the ride when one worries little about the results.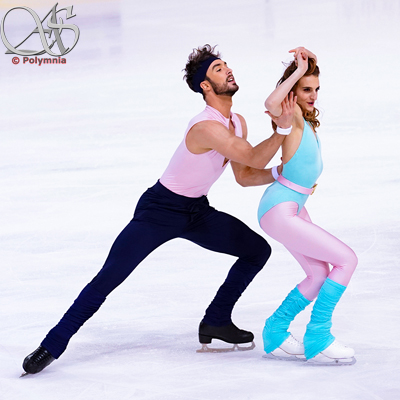 In fact, excitement started all the way back during the Friday morning practice when Papadakis / Cizeron showed up in THAT rhythm dance outfit, to the delight of the very international crowd that managed to come to the venue early enough despite being on a national holiday with reduced public transport links. It was a good packaging move too, a perfect teaser for things to come before the skating starts, and the perfect visual reflection of the actual program: it's humorous, playful, definitely not taking itself seriously and thus showing a side of their personality that's sometimes easily forgotten (but of which the press already had a reminder in the French skating team press conference the day before when Guillaume stated that their goal at the competition was to skate two clean programs and have fun in the process, to which Gabriella jokingly added "Same! And if that could get us a top 5, it'd be nice!" to the laughter of the local press corps).
Their free dance is more in line with what we have come to expect from them, but interestingly it had generated some level of controversy when they first unveiled it the previous month. In lesser hands the modern dance touched together with the lyrics may have been gimmicky, the commitment may have felt skin-deep. There is none of that in their performance: the difficulty, beyond the obvious technical elements, of that particular aesthetic is to create the fluid lines and movements, which demands great muscle control, compounded by the constant constraint of maintaining one's balance and going through the technical elements inherent to competitive skating. That a number of people seem to believe this is easy is testament to how good their mastery is over the mechanics of their movements.
But the excitement was not limited to Papadakis/ Cizeron: the second season in the Olympic cycle is often the one when skaters choose to be more adventurous. Add to that a rhythm dance that offers latitude to the skaters to explore many different avenues and it makes for a season full of program highlights, some of which were present at GP France: Chock / Bates' free dance is a jewel, for me the most thematically and aesthetically cohesive program they have ever had, technically challenging throughout (and on a shallower note Madison wears what may be one of the most beautiful ice dance dresses I have ever seen - although to my defense, the costumes and in particular the color palette for the both of them is a strong choice that compounds the impact of the program itself). They also seemed completely at ease in both programs which both give them an opportunity to be playful while staying true to themselves - an evolution rather than a revolution, but no less welcome.
More revolutionary is Guignard / Fabbri's early David Bowie program - seemingly coming out of left field when looking back at their previous choreographies, it is not only a welcome extention of their range from a spectator's and artistic point of view, but may also be the program they need to close the remaining gap between them and the (admitedly few) pairs before them in the rankings. They also added excitment of the unvoluntarily kind by skating despite Marco having injured the tendons of his right hand, having to adapt details of the program (and making me inwardly wince every time he lifted her despite the injury) but remarkably dealt with it despite considering withdrawing the week before.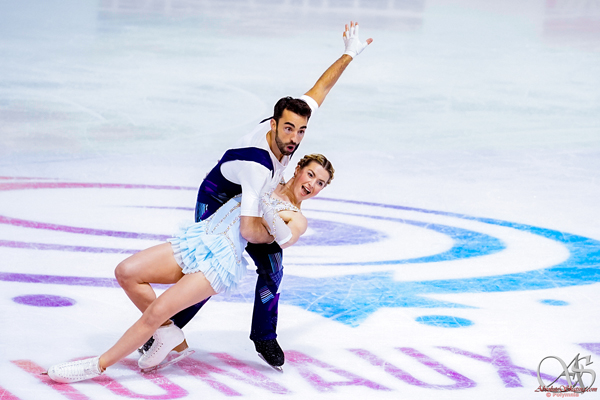 That variety proved true through the entire field, with both of Smart / Diaz programs as well as Reed / Ambrulevicius free dance offering personal highlights - but what was most striking was the air of freedom permeating the entire competition - may it carry through the entire season.
As shamefully clichéd as it might sound, the best word I could come up with for describing the Ladies' competition would be "grace", a quality that each skater possessed but also made her own, offering an ever increasing palette of sounds, emotions and colors in a single competition: Maé-Bérénice's shimmering through a sun-drenched samba short program, unexpectedly inviting warmth into an otherwise dreary and cold Friday afternoon, Starr Andrews continuous progression and refinement over the past two years, particularily evident during her performance to Christina Aguilera's You Lost Me; Georgs Pelecis' delicate yet modern Concertino Bianco creating the perfect soundtrack to highlight Yuna Shiraiwa's lightness of touch and innate understanding of the phrasing of the music (with the end of the steps sequence one of the choreographic highlights of the entire competition, for which we have the ever busier Stéphane Lambiel to thank); Mariah Bell's playfulness on a decidedly very EDM-y version of Britney Spears, hitting a great balance between sinuous lines and explosive energy; Wakaba Higuchi's rallying at the end of her free skate, despite knowing that her mistakes had just denied her any chance to step on the podium, to deliver a sumptuous end to her program; and her co-national Kaori Sakamoto's founding her courage after the disappointment and the tears that followed her short program the day before to deliver yet another rousing rendition of her Matrix program.
But it is the top two Russian skaters of the competition, Alina Zagitova and Alena Kostornaia, who may have best illustrated the word at this particular event:
Alina for the way she handled lines of questions at the press conferences that were at times dubious at best, thinly veiled warnings that her time was, in some people's opinions at least, coming to an end. That she was ineluctably on her way out, destined to be replaced by the newer models on the long and prestigious production line of Russian prodigies and forgotten - one such newer model, she was reminded, sat right next to her (which unmistakebly made Kostornaia more uncomfortable than her training partner). "You make me sound like a grandmother!" was Zagitova's only real complaint (to which Mariah Bell added "Well I must be a great-grandmother then!").
What made it all the more uncomfortable was that this line of questioning isn't completely unfounded: there is a real sense that Kostornaia, Trusova and Shcherbakova's ascension to the top of the Ladies' field is near unstoppable, which would leave only crumbles to the rest of the Russian ladies. But it does however also conveniently leave out how quickly things can change in a field this deep, populated by athletes this young, how quickly the tide can turn, something a simple look back over the last decade provides many examples of.
As for Alena, it feels like the word "grace" is near unescapable when trying to define her skating, something that is true inside and out: it's a quality both technical (that is the innate physical quality of her movements and her musical understanding) and emotional. It's in the way she so easily shifts the color of the skating to fit the changing mood of her music half-way through her vampire-inspired free skate (a theme she specifically wanted to skate to), or how the soul of her skating seems to align with Max Richter's November: beautiful, fragile, with a luminous quality which is more akin to that of the moon in its inherent melancholy.
From the sheer quality of both of her performances, from the quiet assurance she displayed, you would be forgiven in believing that her confidence mirrored her practices. And yet, it was far from being the case: at times she struggled, she looked worried, in doubt, in pain: she even performed one of her run-throughs in tears. However, when the arena became full and all cameras were trained on her, she shed all her doubts to perform not just the best programs on both nights, but some of the best performances, both technically and artistically, so far this season. There is grace also in grit and courage.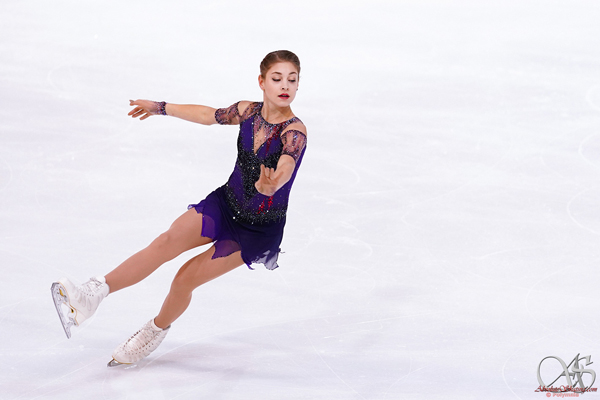 At most competitions this is where I would end, parting with a word or two, leaving out what happened on Sunday because this is after the competition and what comes after rarely stays with me: galas more often feel like whimsical fun that exist in the moment but do not linger much beyond that. This GP France was different, thanks to the skaters commitments, for one - a clear night sky recreated by hundreds of mobile phone lights for Pavliuchenko / Khodykin skating to Stromae, Alina Zagitova's program choreographed by Daniil Gleikhengauz around the time his mother died, to which she lent a touching fragility, and Shoma Uno returning to his This Town exhibition program - and changing the choreography to stop and stand in front of the northeast corner in the middle of his program, thanking them for the unconditional support. For this was the true VIP of this competition: an audience coming from all the corners of the world, hardcore fans and local families alike, respectful to all, giving great skates the cheer they are due and always ready to unconditionally support skaters who struggled, warm and uplifting.
I have no picture that could express how great the crowd at GP France was - for once I will have to rely on words to convey that side of the story and hope that they are enough this time.