A report from Japan Open 2019
October 29, 2019
By Atsuko Kuryu
Photos © Keiko Kasai

Japan Open, the annual kick-off event, was held October 5th at the Saitama Arena, Saitama, Japan. This event gets attention not only for the fabulous competitors, but also because most of them debut their new free programs for this season.
The teams consisted of 4 skaters each from Europe, North America and Japan. Each team had a prominent feature; like very strong ladies in Team Europe; two men who were on the podium at Worlds 2019 in Team America, and Team Japan had very solid skaters.
I dare to say that Japan Open 2019 was the competition highlighted by the ladies. All of their performances were incredible. Alexandra Trusova, Russia, was just below 100 points (97.51) in TES to win the ladies category. Following her degree of perfection, Alina Zagitova, also Russia, got high TES points (80.08) without quadruples or triple Axels. Rika Kihira, Japan, included two triple Axels and was ranked third.
Alexandra's quadruples were nothing short of stunning, not only because of the rotation speed but also the height. The audience gasped as she took off on her opening quadruple Lutz, and more: she landed all quads cleanly! There were no under-rotations and no wobbles at the landings. I was honestly so amazed with her jumps, I don't remember what music she skated to. Of course, she moved with great speed and even if she doesn't have the richest expression yet, like Satoko, I'm not worried because she is still very young and has time to develop her expressiveness.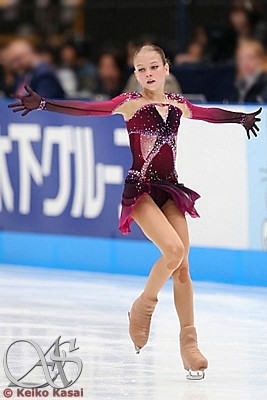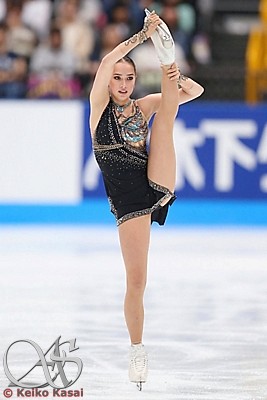 Alina was near perfect. She received many points of Grade of Execution (almost 17) and high second marks. Check the PCS and you'll find that all the judges gave her over 9.00, including two 10.00. From her performance, I gather her strategy this season is to take on the young skaters with difficult jumps (of course she herself is only 18 years old). I though her double Axel in the middle of the program was very symbolic of that. She took off with one foot from the counter after the Charlotte spiral, then quickly moved to the next action after the landing. As for a general impression of her free program: it was a combination of The Feeling Begins, Lawrence of Arabia and Ramses and Alina created an Oriental atmosphere on the ice. At the press conference she said she didn't particularly look to other young skaters with quadruples and/or triple Axels, she just wanted to enjoy her own skating.
Rika took on some difficult music this season, but managed to execute her program very well. Especially her step sequence was amazing – and very complicated! But she moved elegantly and smoothly through it and was rewarded with level 4 for her work. Rika said that she was happy she landed two triple Axels cleanly, but regretted the triple loop. She had intended to include a quad Salchow, but decided against it since it didn't go well during the morning practice. She also explained she would like to include a quad if it felt right at competitions this season.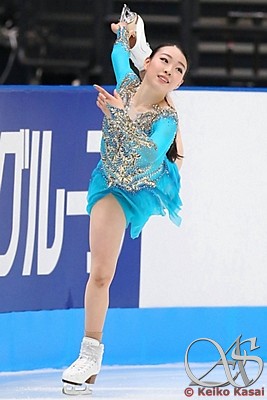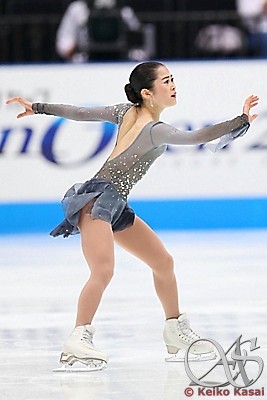 Satoko Miyahara, Japan, skated to Schindler's list. This very touching piece was performed with delicacy and elegance. We were surprised at how good she was at being picturesque because the season has just started. She said she'd definitely planned to include a triple Axel when she decided to take lessons from Lee Barkell (she was still working with Mie Hamada) however, she recognized that she wouldn't nail a quad right away, so she aimed to fight with other elements besides jumps, and with her own characteristic expressiveness.
Two American ladies did not score very highly, but each showed a beautiful performance. Bradie Tennell was graceful to music from the movie Nuevo Cinema Paradiso. She seemed to struggle some with her jumps, but the other elements were fantastic. Mirai Nagasu, who didn't compete last season, was first out of the ladies. She impressed the audience with her beautiful action and wonderful skating skills. She was really charming even if she received downgrades and under-rotations for her three jump elements.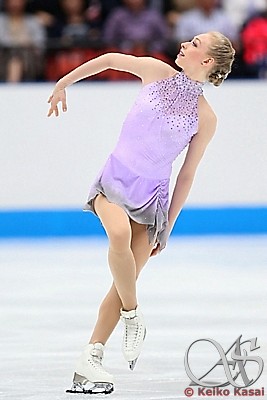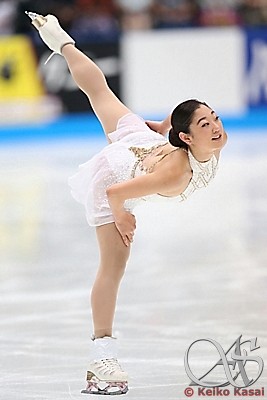 The American men showed their momentum. While Nathan Chen dominated this field with landing 4 quads, Vincent Zhou became third with 3 quads. Japan's Shoma Uno, with 2 quads, took second place.
Nathan's Rocketman was all excitement, and he moved enthusiastically across the ice and involved the audience. Above all else, his choreo-sequence was excellent! The whole venue was with him as he turned the ice into a hip-hop dance floor, and later said that part had been choreographed by a hip-hop dancer. Nathan felt like it didn't make sense at first, but then he practiced the moves on the floor and got the feeling, so when he came back on the ice he felt totally comfortable. He seemed like a real dancer and it was definitely the highlight of this event.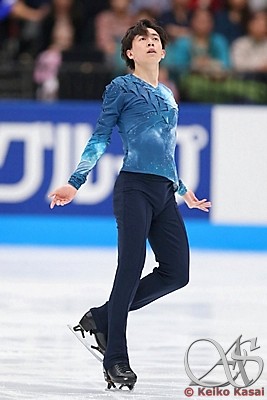 Vincent got three under-rotations for his jumps but piled up very high points from other elements. He'd chosen powerful music, but wasn't able to make full use of it yet. But it's just the beginning of the season. The choreography was wonderful and I'm looking forward to watching this program evolve.
Honestly, I was very surprised at Shoma's new program, which was choreographed by David Wilson. Shoma seemed quite different from what he has been in previous seasons. To me, he's been a skater with deep and heavy expressions, but here he was much lighter. He did make a big decision prior to this season: he decided to leave his long-time coach and enter the season alone. I guess he was on his way to find his new self and this change was a sign of the result. During the press conference he mentioned how very fond he was of this program. He also expressed how he aimed for the performance, not the win. He wanted to deliver a performance which he could say he enjoyed when it was over. Today's performance was analyzed with "I included only two quads in the planned elements, and still didn't make them flawless. Not because it was a competition, but now it's my normal state, even in practice". I know how difficult it is to work alone without coaches, and sincerely hope his challenge will bare fruit.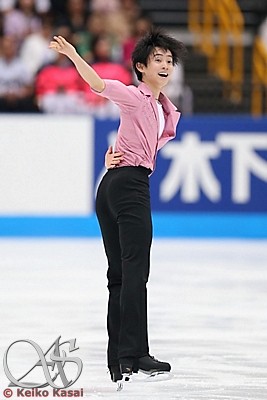 Koshiro Shimada, Japan, who debuted at Japan Open, dared to try a quad toe and landed it despite a hands-down. The humorous movements during the step sequence fit his character, and was very charming. Koshiro's goal for this season is a flawless performance including two quad toes. As for multi-quads, he denied that will happen this season. He's made a steady policy for this season that he'd rather focus on the groundwork; re-examine himself and find his weaknesses and thoroughly work with them.
On the European team, Javier Fernandez of Spain showed his presence among the younger, eligible skaters. You might say that although he was not as he used to be technically, his gorgeous expressiveness and attractiveness remain same. He entertained the whole venue and received a standing ovation. Deniss Vasiijevs (Latvia) seemed a little cautious at first, and his score was a bit low due to some failed jumps, but he got level 4 for his step sequence and all spins. I especially look forward to the perfecting of the jumps, and improvements of the step sequence with the complicated movements.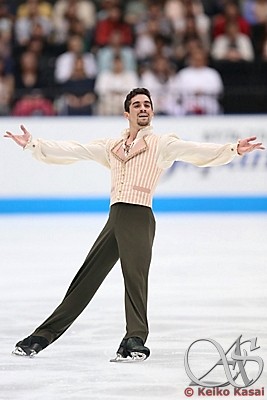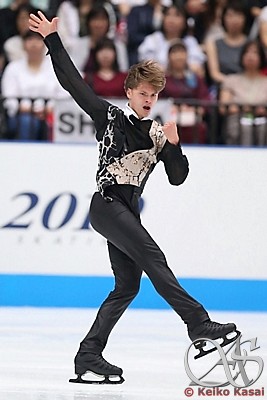 The final result of Japan Open was as follows:

Winner: Team Europe 614.73 points (Men 299.79, Ladies 314.94)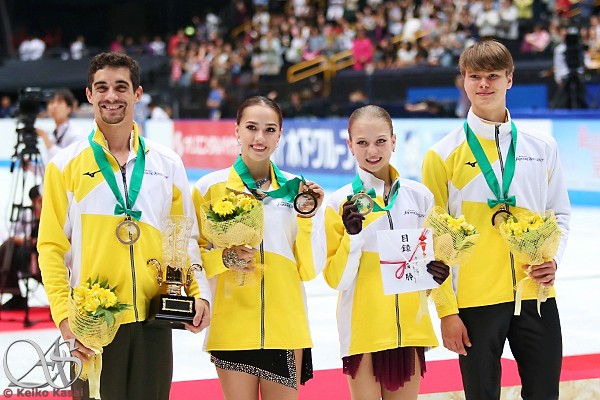 Silver: Team Japan 602.16 points (Men 322.46, Ladies 279.70)

Bronze: Team America 593.42 points (Men 357.47, Ladies 235.95)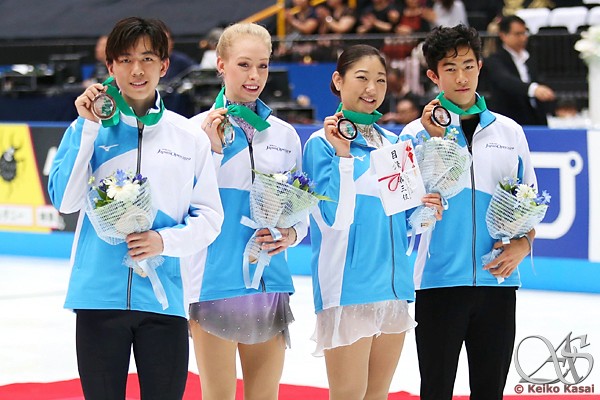 Between the men's and ladies' competitions, there was a wonderful performance by three guests. Nobunari Oda performaned to music from the movie Top Hat. This reminded me of Fred Astaire and Nobu created a world of stylish movie fun on the ice. Not to mention his wonderful skating skills and great spins, the fact that he keeps his condition up and landed all the triple jumps without mistake is phenomenal for a pro-skater over five years after retirement. But Nobu is also in the middle of controversial issue with the Kansai University Ice Skating team, where he coached for several years. He recently turned in his resignation as he no longer felt any support from his employer, which in turn affected his health and ability to continue. More on this is posted on his website: https://ameblo.jp/oda-nobunari/entry-12531037719.html. During the show the audience wanted to show their sympathy, and loudly cheered this beloved skater on before and after his performance, and the venue was saturated with warmth and empathy.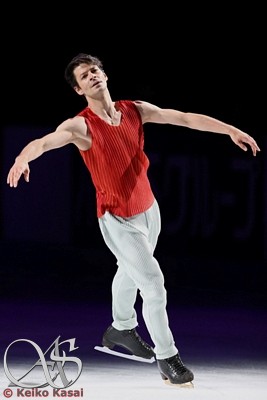 Oh, how to describe Stéphane Lambiel's program! It was said that it was choreographed by a contemporary dancer. There are programs made by choreographers in fields other than figure skating, and this might be one of the best. It's a very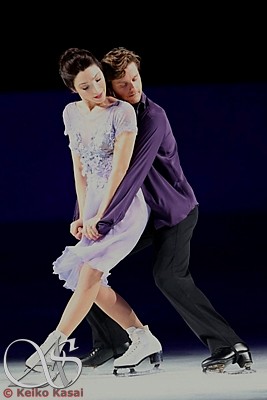 artistic and contemporary program, a must watch! Being able to watch this kind of performance was very lucky for the fans and even for the younger eligible skaters.
The last, but certainly not least, pleasure came from legendary ice dancers. We were very happy to see Meryl Davis /Charlie White, USA, 2014 Olympic Champions, live! They are still beautiful and exciting. Using a silk, they effectively created a world of love between a man and woman on the ice. We felt like watching a drama during their performance, which had both feelings of pleasure and heartache. The former feeling was because we watched a wonderful performance, and the latter, because we shared the emotions with the performing characters. And sharing emotions pretty much sums up this year's great show. Now we watch and wait for the presented programs to evolve and become perfected.
Another exciting skating season just started!
Don't miss our photo highlights from this event!