Impressions from the JGP in Lake Placid
December 2, 2019
By Anna Kellar
Photo © Anna Kellar, Polymnia, Tina Tyan, Verit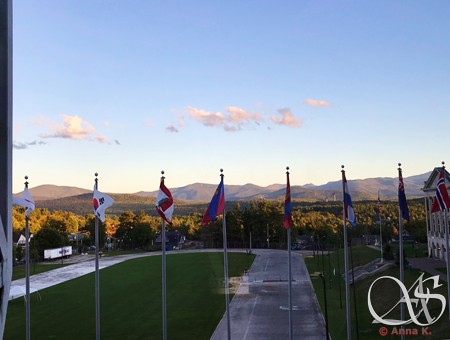 To get to Lake Placid, NY, you drive along a narrow road, through a mountain pass, past the strange shapes of ski jumps, and enter a town folded around a picture-perfect lake. The site of the 1932 and 1980 Winter Olympics is tucked away from the bustle of the wider world and yet for a weekend at the end of August it was the center of the figure skating world.
At a small competition like the Junior Grand Prix, it's easy to notice how supportive all the juniors are of each other. Skaters from different countries sat together in the stands, chatting and cheering on their competitors. This was especially obvious when Alysa Liu took the ice. A whole row of skaters - not only the other Americans, but Russians, Australians, Swedes - started cheering "Let's go Alysa!" And when she finished, they were standing and applauding as hard as the American fans on the other side. The appreciation wasn't only for the top finishers, however. Harshita Rawtani from India finished last in both the ladies and ice dance, with scores well below the next competitor. Nonetheless, her hard work and enjoyment were inspiring, and everyone was ready to congratulate her.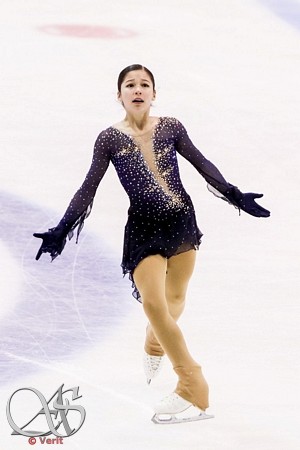 Alysa was truly the star of the competition. Her appearance was being hyped before the event, making it easy to wonder how a fourteen-year-old could handle the pressure. But in the historic arena, skating on home ice, she truly lived up to expectations. Her skating skills have improved remarkably from last year. She told reporters that she does ballet three times a week, and it showed in her lovely lines and landing positions. The program itself felt a little empty - a vehicle to showcase her skills - but her skills are undeniably superb. Her quad Lutz – the first quad in international competition by an American woman - was landed with confidence of a skater who has done many repetitions.
Alysa took her accomplishments in stride. After the free skate, she was most proud, not of her quad, but her spins: "Normally they are hard for me in practice to get really fast, but now they are getting faster." Her grounded-ness and self-confidence were clear when she talked about her training methods. "I don't really watch other skaters' quads because everyone's technique is a little bit different, so I kind of go off of what works for me, like if my coach has a video of when I did it before, she'll just show me that, and I'll try to do the same technique for that, and try to think of it as a triple Lutz. I kind of do the same technique for my triple Lutz and quad Lutz; maybe a little bit different, but I try to go off of my experience." Just off the ice, she was already thinking about how to improve her programs, and to grow before her next competition.
Silver medalist Yeonjeong Park of Korea is an excellent technician, with beautiful height and edges to her jumps. While her skating skills are weaker than some of the competition, she has a bright future. Her compatriot, Seoyeon Ji, who had a strong short program, attempted a challenging free skate, both technically and artistically. She doesn't yet have the range to pull off the choreographic transition from lyrical to hip hop to dramatic that her music required, but it was nonetheless an impressive attempt to push outside her comfort zone, landing her in fourth place. Another highlight of the ladies' field was Mana Kawabe of Japan, who did justice to her Black Swan program. She shows real promise in her interpretation and skating skills, though she struggled with clean execution of many of her jumps.
Though the emphasis was undoubtedly on Alysia Liu, the other two American ladies finished their Junior Grand Prix debuts in seventh and eighth place and are worth following in the future.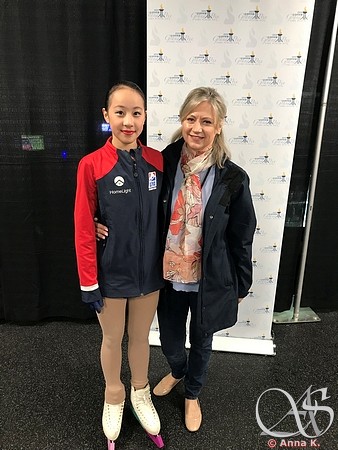 Emilia "Milly" Murdock has an enjoyable energy and lightness on the ice, carrying her through the drama of her tango program and a few jump bobbles. Jessica Lin (pictured with her coach) was charming. She fought back from a disastrous first two jumping passes and seemed to take strength from her program as she went on. She told reporters she was pretty happy with her program and ability to come back stronger in the second half. "The crowd was really supportive, and I liked how they cheered me on, even though I had some mistakes."
Jessica also drew attention for her music and costume, which were reminiscent of Yuzuru Hanyu's 2016/2017 free skate. "That year when I watched Hanyu's '17 Worlds, I really liked his program, and I really liked the music, so we decided that we would use the music. After all, it's Asian Dream Song, and I'm Asian, so it kind of makes sense." What does she hope spectators remember of Jessica at her first Junior Grand Prix? "I hope they remember my dress. The theme of Yuzuru Hanyu, it's kind of like a tribute to him, I hope people recognize it, and the respect I have for Yuzuru Hanyu and all the other top athletes out there."
In the men's competition, the free skate was notable for disappointing programs from Shun Sato and Stephen Gogolev, who nonetheless got gold and silver.
Shun, the 2018 silver medalist at Japanese Junior Nationals, came to Lake Placid with high expectations. He had technical errors on his opening quad in the free skate and fell on his last triple Lutz. His second quad toe loop, however, was beautiful, showing what he can do when he skates his best. He also did a great job of connecting to the music in his transitions.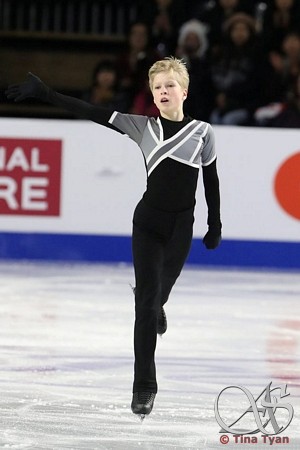 Stephen (photo at GPF 2018) has compelling fierceness but his technical elements betrayed him. The hard fall on his first triple Axel rippled through the rest of his program, giving him the kind of performance of endurance that skaters dread. He was smart to downgrade the content of the second part of his program and focus on clean execution of his triples. Hopefully, in the future, he will also attempt to connect to the audience and project more emotion through his skating.
Bronze went to Gleb Lutfullin. The young Russian has nice posture and arm movements, not to mention a quad Salchow and good triple Axel technique. However, the music cuts in his program were jarring, and he didn't have the sharpness and crispness to keep up with the faster sections. It seemed like he lost some energy in the second half and started making small mistakes. This somewhat marred the impact of ending his program on an explosive triple loop.
Two American men finished just off the podium, though not in the order we might have expected before the competition. Ilia Malinin was fourth at his Grand Prix debut. At thirteen, he seems very young on the ice, and while his technique is strong, he needs to take the time to hold his positions. Ryan Dunk, the veteran US skater at 18, had a disappointing skate to 5th place, popping an Axel and seeming stiff. The third American, Joseph Klein, had a stellar cantilever into his triple Salchow and good presence and connection to the crowd for a 14-year old.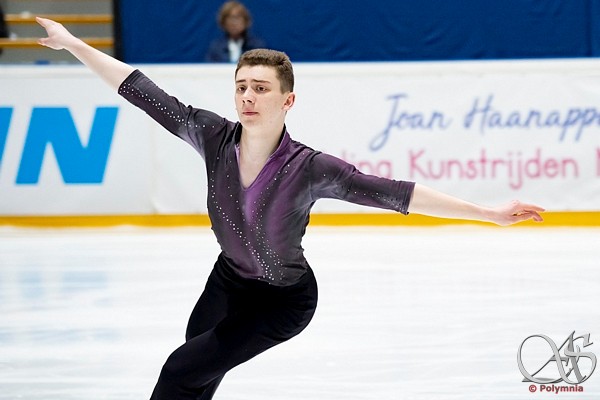 (Photo at Challenge Cup 2018)
Other highlights for the men included Matyas Belohradsky, who had fun with his bluegrass program, Harrison Bain's fantastic spins and flexibility, and Darian Kaptich, an entertainer whose performances are worth seeking out.
One of the joys of watching juniors is seeing how strong they are now and knowing how much better these skaters have the potential to become. The JGP Lake Placid gold medalists both went on to qualify for the Junior Grand Prix Final, and it will be exciting to watch how their programs and skills have developed over the fall. All the best to Alysa and Shun in Turin – and to all the skaters as they work toward their next competitions!