Kings ruled at the World Figure Skating Championships 2019
March 31, 2019
By Atsuko Kuryu
Photo © Keiko Kasai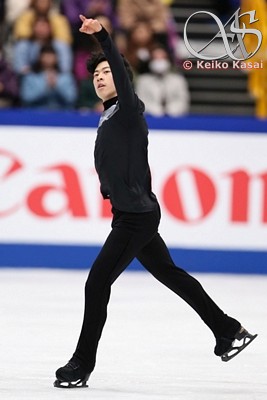 This year's Worlds was held at the Saitama Arena in Japan, and there were incredible competitions in all categories. If I describe it shortly, it was a competition where the kings ruled. The 2017 world pair champions, Wenjing Sui / Cong Han, who had been struggling with injury and other problems, nailed their performances to win the title. Olympic champion Alina Zagitova swept the ladies' discipline, Gabriella Papadakis / Guillaume Cizeron were extremely strong, and two giants: 2018 world champion Nathan Chen and two time Olympic champion Yuzuru Hanyu became 1st and 2nd respectively, with huge margins to the rest. On the other hand, fresh skaters showed off their skills as well and made an imprint.
The Saitama Arena is a large venue with a capacity of 37.000, and eager fans filled it up every day. Most skaters expressed their gratitude and appreciation for the enthusiasm of the Japanese audience which cheered on skaters from all countries, regardless of their popularity. The competition outcome was disappointing for Japan since they have so many strong skaters, yet only got a silver medal. But worldwide attention was drawn to the fact that different countries won each category: China in pairs, France in ice dance, Russia in ladies, and USA in men. Hopefully this will contribute to the rise of figure skating popularity.
I will try to recap this event with a different approach than usual, with focus on things that left an impression and not so much on ranking or scores (since you surely already know those). Mine may be a different view than yours, and if you find unfamiliar names, I'll be happy if you check them out on the ISU videos or YouTube. You just might find a new set of exciting and attractive skaters to follow!
Pairs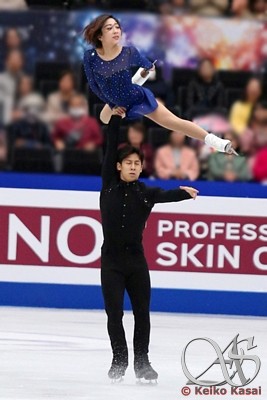 My report starts with the free skating of Wenjing Sui and Cong Han (China). I was thrilled because it was a once in a lifetime experience to watch it live. The quality of all their elements was more than excellent, and a flow of movements was unleashed without any hesitation or interruption. The marriage between them and the music was fantastic, even if Wenjing once mentioned she didn't like the music. (after winning Four Continents) Even now at the press conference she admitted she still doesn't like it so much. Funny, but interesting as the choreography is creative and elegant, and not self-righteous at all. The liaison between them is perfect. The last element was a lift, before which the audience got ready for a standing ovation and the excitement already filled the venue. As soon as they took the finishing pose, the applause exploded and the press, who rarely gave standing ovations, all stood up too and joined in the praise. At the press conference, Wenjing and Cong both said it had been a tough season, but thanks to the full support from their coaches, officials and fans they were able to deliver this kind of performance and win the world title.
I highly recommend you check out the performance of the Croatian pair, Lana Petranovic / Antonio Souza Kordeiru. They were the 7th pair out in the short program, and their The Greatest Showman made a very strong impression. They were exciting and entertaining because they expressed the essence of the movie very well. Their short program was remarkably entertaining as well, and although they finished 15th, they left the audience with feelings of joy and happiness.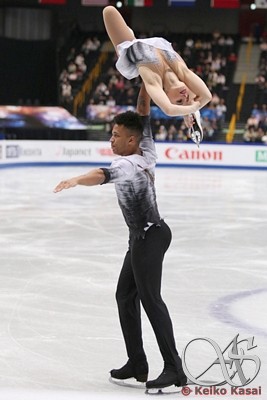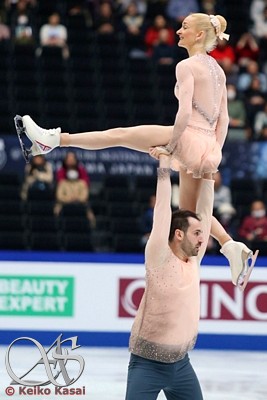 In the first group of the free skating, I saw a heart-warming scene. Zoe Jones / Christopher Boyadji (Great Britain) had a not perfect but very nice and enjoyable program and the audience gave them a standing ovation and waved many British flags. Can you imagine having a satisfactory performance and seeing lots of local people honoring you with your country's flag in hand? This almost brought me to tears. I was moved by their performance and also by the action of the audience. Lots of skaters said the Japanese fans were so wonderful it made it fun for them to perform in Japan. Someone even said it felt like being at home, which made me proud to be one of those Japanese fans. Adding to their good performance, there is also the unique story of Zoe. She was a single skater and two-time British national champion. After she retired in 2001 (yes, you read that right!), she came back in 2014 as a single skater, and then competed in pairs with Christopher from 2016. Now she is 39 years old and a mother of three. What a nice story! I became a fan of hers and this couple right away, and I guess many of the Japanese fans who came to the venue early in the morning felt the same way.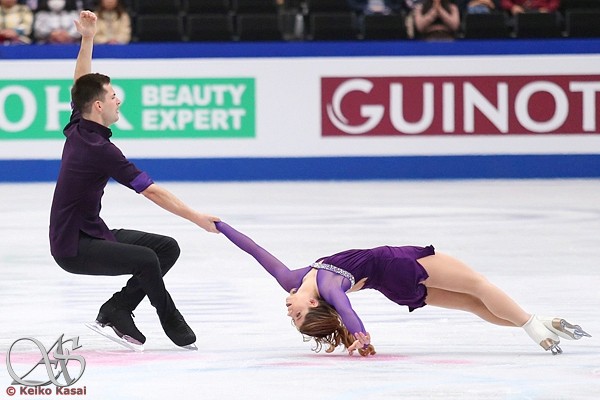 Let me pick up on some other interesting couples from the short program. Miriam Ziegler / Severin Kiefer (Austria) showed wonderful skating skills worth mentioning. They are coached by Bruno Massot. And we have seldom had a chance to watch Tae Ok Ryon / Ju Sik Kim (North Korea) at major international events until this season. But they have some good qualities and their beautiful unison alone was worth the watch.
Maybe it's just my feeling, but watching the pairs in their short program was a bit like watching the same video over and over because the elements looked almost the same. They included a triple toeloop or triple Salchow as a side-by-side jump, a change foot combination spin, a throw triple twist, and throw triple jump, which seemed to be all the same with only slight differences in the jump type. They also included a lift and death spiral, which were officially specified to the same style. You could show your character only through the step sequences. If you wanted to stand out, you had to deliver an exquisitely gorgeous program or maybe the worst performance of the day. I would like to see a rule change giving the skaters more opportunity to show their personalities. This would also make the audience enjoy the performances more, which I think is a valid point even in the context of figure skating being a sport.
Ladies
I used to think that the ladies had little personality in their performances compared to the men. For example, some men are very good at dancing, some are comical, some are very powerful and so on. Because of this I liked watching even the earlier groups of men. However, the ladies often delivered similar performances, maybe because they are expected to be graceful as the number one characteristic. This was (and partially still is) my overall impression, but it is obvious they have great skills and individuality if you look at each one carefully. This became very clear watching the last two groups. The perfection of Alina Zagitova who won the event, the high difficulty of Rika Kihira's program including two triple Axels, the excellent skating skills of Kaori Sakamoto, and the fine artistry of Satoko Miyahara, to only mention a few. But I'd like to expand on three skaters focusing on the word "regeneration."
First of all, Gabrielle Daleman (Canada) who took a break earlier this season, but now came back to the international stage. She opened the next to the last group in the short program and absolutely nailed her Carmen-performance.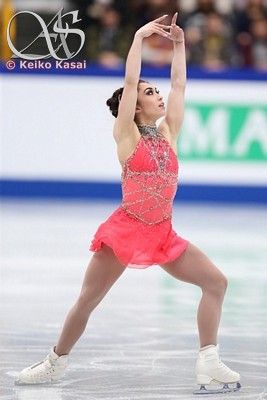 She looked tired in the latter part of the free skating and popped three planned triple jumps into doubles, but her other elements were evaluated highly. Compared to her glory days, her speed and dynamism were somewhat inferior; however, as an attempt to return it was more than enough. The audience welcomed her comeback with a standing ovation. When I saw her big smile right after the performance and the tears of joy as she left the ice, I found myself choking up too. Evgenia Medvedeva (Russia), who relocated to Canada to train under Brian Orser, seemed to struggle earlier, and some doubted her decision. But here she gave two great performance and hopefully dispelled any such concerns. During the press conference someone asked her thoughts about some people thinking she was "done". She proudly answered: "to put it shortly, this medal proves I am not done". She showed just how mature a women she is, behavior and performance wise. On the contrary, Elizabet Tursynbaeva (Kazakhstan) moved her base from Canada to Russia. She became the silver medalist with a quad Salchow, which is a historical jump in the senior ladies (Miki Ando landed one as a junior back in 2002). She had won several junior titles but struggled as a senior. Now she came back to very top level. She explained about her quad Salchow, "I can't believe I landed it! I kept trying it at Four Continents, the Universiade, and here at Worlds. I finally did it on my third attempt." Her big smile was very adorable.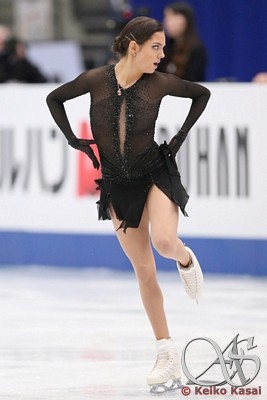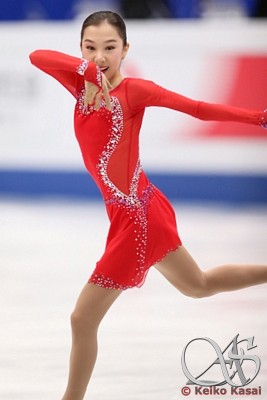 Now let me introduce a few skaters who were eye-catching even though their scores were not high enough to make the free skating. Pernille Sorensen (Denmark) had vivid and joyful movements; Finland's Emmi Peltonen's performance is just brilliant; Anita Östlund of Sweden has a beautiful double Axel to die for; Kailani Crane from Australia has grace like few others and Aurora Cotop's (Canada) effective use of her body beats most others. And one last lady: Ivett Toth (Hungary). It was interesting that all ladies above 50.63 points in 2018 made the free skating, but this year it was 55.20. So unfortunately Ivett's very attractive performance worth 54.87 points placed her 25 this year, where last year she would have qualified among the top 24.
Ice Dance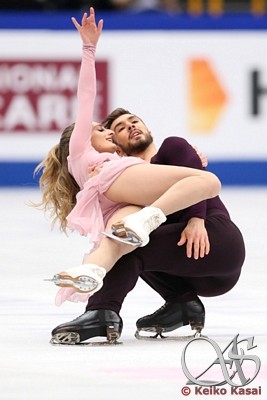 I am an avid ice dancing fan and I can't stay calm when it starts. This was such a thrill and I can't help talking about Gabriella Papadakis / Guillaume Cizeron (France) first. They showed two perfect performances to win easily. I could go on endlessly about their fabulousness, but let's instead go back to 2014 when Saitama last hosted Worlds. Gabriella and Guillaume competed then too and placed 13th with 141.49 points, but I don't even remember what they were like. The following year in Shanghai, they leaped to win the title, and I thought they were an ice dance revolution. This year they won the title with 222.65 points!
I am also a big fan of Kaitlyn Weaver / Andrew Poje and Piper Gilles / Paul Poirier of Canada, and highly appreciate Madison Chock / Evan Bates' (USA) mature atmosphere; Madison Hubbell / Zachary Donohue's (USA) dynamism and Victoria Sinitsina / Nikita Katsalapov and Alexandra Stepanova / Ivan Bukin's Russian traditional allure. Still, I feel Gabriella and Guillaume are in a class of their own. Ice dance emphasizes artistry the most among all figure skating disciplines. They make me reconfirm that this is definitely a sport where they maintain ultimate artistry the most. At the press conference someone asked Victoria and Nikita, silver medalists and Madison and Zachary, bronze medalists how they are going to catch up to Gabriella and Guillaume. Nikita said they don't know but feel very happy to have them together on the ice. Madison joked they are on the same team so the coaches know the secret. "We'll never be Papadakis / Cizeron and they'll never be us. We just keep pushing to the top", she added.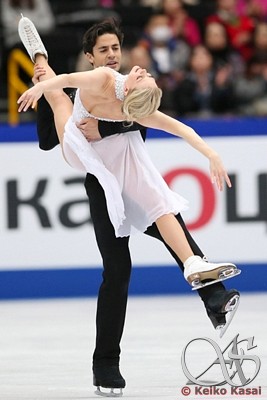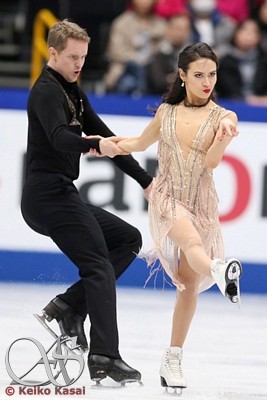 At the press conference of rhythm dance, being asked about the 2014 Worlds, Guillaume answered he didn't remember what they had thought at that time, but looking back he was moved by the big changes they have experienced since then.
Nikita was a 2014 Olympic champion (team skating) with former partner Elena Ilinykh. After the split he teamed up with Victoria. Since then they had been struggling. Victoria admitted that in their first year, she felt scared because she was intimidated by his career, but gradually they grew to understand each other better. They have had a wonderful season so far and being asked the reason, Nikita answered they changed everything; not only the approach to practice but everything; and he was able to find renewed love for figure skating. He also thanked the coaches who trusted them to achieve this kind of result.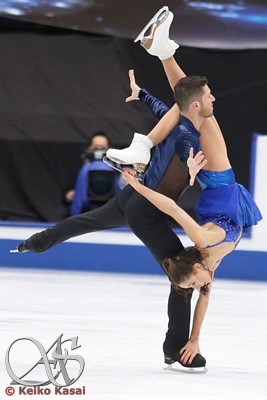 British team Lilah Fear / Lewis Gibson's free dance was very entertaining. They were 2nd at the free dance at last year's NHK Trophy where they entertained the audience with an unforgettable performance to today's kind of music and disco dance. The Japanese fans still remembered them and cheered loudly even before they started the rhythm dance. Here they were as enjoyable as the fans had expected. I guess they need to be more polished, but they are still very young so we will expect more from them in the future.
I mentioned only these three teams, but all of the competitors were really fantastic. Another thing also happened that brought the competition to a whole new level. At the rhythm dance, all teams first through 7th, received level 4 for all elements and got 4 "y"s for their pattern dance (keypoints). Adding to that they received no –GOE, but got +GOE 3, 4 and 5. A similar phenomenon happened in the free dance. Have we ever experienced such an high quality event before? The people who were able to watch this competition at the Saitama arena were very lucky indeed.
Men
The men's competition was the most exciting of all. Nathan Chen (USA) hit the world record score after the rule change. He was just stunning! Yuzuru Hanyu (Japan) admitted that even if he had nailed two perfect programs, Nathan still would have won the title. It was a great battle and the excitement lasted until the very end.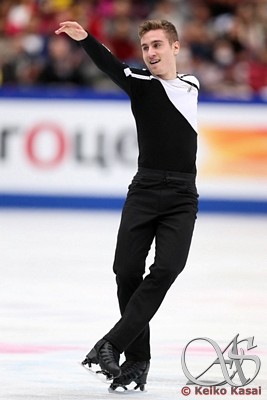 But let me start with my hero this time: Matteo Rizzo of Italy. His short program was amazing; the elements he nailed were clean, his speed was great and his skating skills amazing. Please watch his gorgeous triple Axel! In the free skate, he seemed somewhat intimidated by skating among the top in the last group. He failed his first two difficult jumps but collected himself after that. Last fall he placed 3rd at the NHK Trophy where some top skaters withdrew. He was super-delighted over his medal and said it was a result he had not even imagined. Some said winning a bronze medal there was just luck, but at Worlds he surely owned his own ability. Getting on the podium at a major international competition might have inspired him and pushed him forward a lot; this happens from time to time. But a bright future is surely waiting for Matteo!
Let's go back to the incredible performances of Nathan and the long program of Yuzuru. After Yuzuru delivered a seemingly flawless performance (the quad Salchow was regarded as under-rotated), the venue was buzzing with excitement. I was almost sure that Yuzuru would win the free skating with 4 quadruple jumps. But I was wrong, Nathan far exceeded him. When I look back at that moment, I saw Nathan remaining very calm without getting caught up in the excitement. At the press conference the day before, he said he's gotten used to the showers of Pooh bears. Since at this event the throw-in after performances was limited to one side of the rink only, he joked "Luckily half of the rink was empty for me to skate on." Do look at his quad Lutz, which was so stunning you can see only 4 and 5 GOE plus points for this most difficult jump. His spins and step sequences were superb! Yuzuru was also great, but the goddess of victory smiled at Nathan. At the press conference, they praised each other and declared that they will keep on working hard to get even stronger. I can't wait for their future battles and look forward to seeing their improvements next season.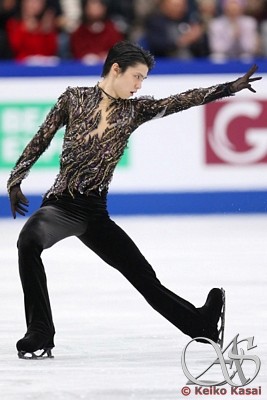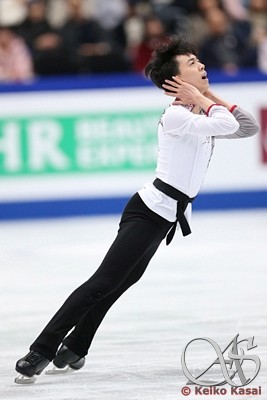 Vincent Zhou (USA) was very happy and satisfied with his bronze medal and pointed out that it was the first time since 1996 that two American men stood on the World podium at the same time, which he said was very proud of. This was a very disappointing result for Shoma Uno (Japan) and Boyang Jin (China) though (they placed 5th and 6th.). But they will be back next season for sure.
I took notice of Kevin Aymoz (France) too. He worked his excellent physical ability to show a sharp performance in the short program and ranked 7th with 88.24 points. Unfortunately his free skating wasn't as good as the short. But still I think he leads men's figure skating in France now and will be doing so a while into the future as well.
There were quite a few new stars in the earlier starting groups of the short program. Aleksandr Selevko (Estonia) was one of them and he stood out for his expressiveness. Peter James Hallam of Great Britain was another, memorable for his danceable moves to Michael Jackson. Luc Maierhofer (Austria) had a very unique program, etc. Oh, and let's not forget Donovan Carrillo (Mexico) who danced through the whole program and involved the audience. In group two, 4 out of 6 skaters made the free skating with amazingly high scores. Alexander Majorov (Sweden) landed the first quadruple jump of the day in his last competition (79.17), Vladimir Litvintsev (Azerbaijan) delivered a clean program with a quad toeloop (81.46), Andrei Lazukin (Russia) hit a high of 84.05 points with fantastic jumps. Poor Daniel Samoin of Israel did not have a great competition, but nailed two quads (82.00).
Wow! With so much greatness at this Worlds, what can we expect in the future?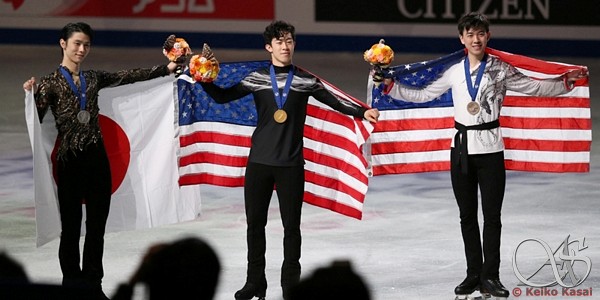 Check out our photo highlights here: Day 1 | Day 2 | Day 3 | Day 4