Grand Prix 2021 - NHK Trophy
January 9, 2022
By Atsuko Kuryu
Photo © Absolute Skating by Mai Yasumoto
The 2021 NHK Trophy was held at the Yoyogi Gymnasium in Tokyo, back in November. For the first time since COVID-19 struck, foreign skaters were invited to the event. There were seven pairs, nine ice dance teams, eleven women and eleven men, one less than planned in each discipline.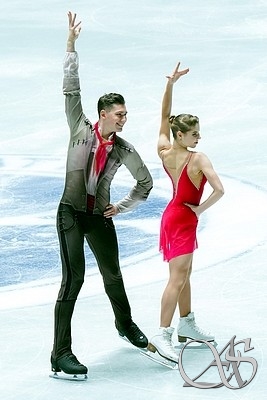 However, the competition, which included top-class skaters, was full of great performances. I hope to give you a glimpse of the power of the veterans, the freshness of newcomers, the battles between young and old skaters, and the tense situation surrounding the earning of Olympic spots.
Day 1
Pairs Short Program
Anastasia Mishina / Aleksandr Galliamov of Russia, skated to ballet music, Esmeralda, and won the short program with 78.40 points. This beautiful short program had perfect elements and very elegant movement, and included some humorous moments. Evgenia Tarasova / Vladimir Morozov of Russia, also delivered a flawless performance, except on the side-by-side jump where Evgenia fell. Their lift with the change of difficult positions was outstanding and their throw twist was remarkably high. In the press conference, Evgenia regretted her mistake, but said that besides that, she had been able to perform as well as she had hoped. Riku Miura / Ryuichi Kihara of Japan finished third, much to the delight of their Japanese fans. They executed smooth, fast skating and clean elements, and performed a graceful Hallelujah as only they can. Fourth place went to Ashley Cane–Gribble / Timothy Leduc, USA, who scored 70.75 with a crisp performance to The White Crow.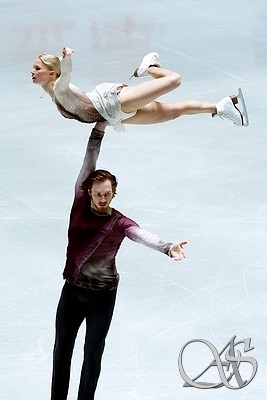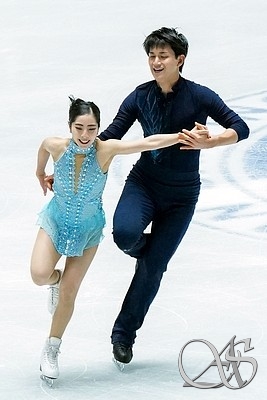 Ice Dance, Rythm
The competition was expected to be on a prominent level with Victoria Sinitsina / Nikita Katsalapov of Russia, the winners of the World Championships 2021, and Madison Chock / Evan Bates, USA, joining the competition.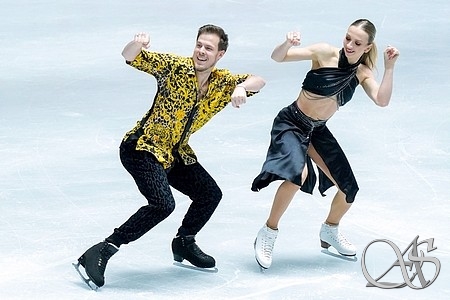 Victoria / Nikita, whose exotic costumes caught the eye, delighted the audience with their flamboyant and humorous performance, using the whole rink. Their speedy, intricate yet perfectly aligned moves were a remarkable sight. Even if they failed to get level 4 for all of their elements, they were fabulous in every way, and won first place with a high score of 86.33. Madison / Evan gave an equally superior performance. Although the music was unique (Billie Eilish), their moves were truly the royalty of ice dance, and their smooth performance earned them second place with 86.02. Lilah Fear / Lewis Gibson from Great Britain finished third with 76.43, and delighted the fans with their signature danceable performance.
The most interesting topic for the Japanese audience this time though, was to see how many points Kana Muramoto / Daisuke Takahashi, who participated in their second Grand Prix series, could get, and how they would compete with Misato Komatsubara / Tim Koleto for the Olympic ticket. Kana / Daisuke were first out and presented a unique program to the tune of the Japanese traditional folk song, Soran-bushi. The performance was both energetic and impressive in terms of beauty of the positions and powerful movements to the brave song. The audience gave them a standing ovation and they scored 70.74. Misato / Tim, in flashy pink costumes, showed a glamorous and fun performance to funk, blues and disco, setting a season best of 68.13.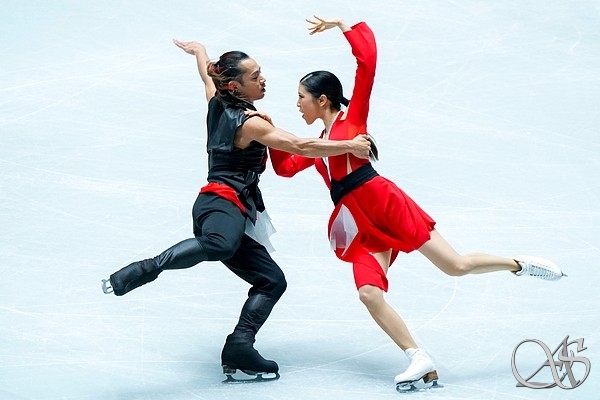 Women Short Program
The women's short program began in a tumultuous fashion, with Russia's Daria Usachowa injuring herself during the six-minute practice. We all hope she will recover very soon. It was a pity that Daria, who was the favorite of this competition, had to withdraw, but the wonderful performances of the other competitors made it all worthwhile anyway.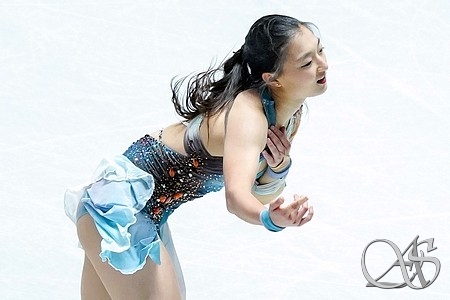 Taking the top spot was Kaori Sakamoto. She showed off her strengths; speed in covering the rink and skillful expressions using her high physical ability. Her double Axel was huge and she earned some extra GOE points, 8.41 all together for the program. Her total was 76.56 points. Second place went to Mana Kawabe, who had shown a satisfactory free skate at Skate Canada two weeks earlier. As an opening jump, she nailed a beautiful triple Axel, and then kept the momentum, landing all the jumps cleanly. Her powerful step sequences to Winter gave us a hunch that she can be the dark horse of the figure skating scene this year. Her score was her personal best, 73.88.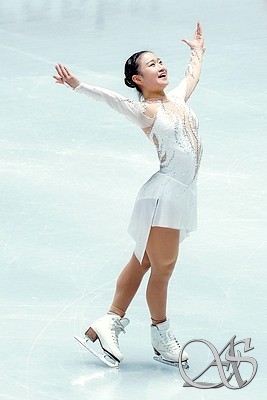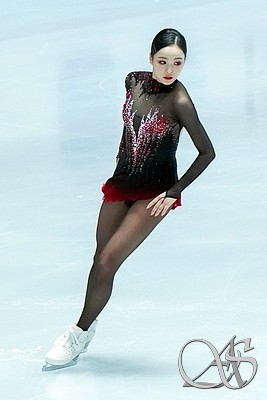 Third place went to Korean Young You, who, despite a fall on the triple Axel, showed a powerful performance with all the other elements and steps that covered the whole rink. Alyssa Liu, USA, who also fell on the triple Axel, showed a light-hearted performance to the fast rhythm of Gypsy Dance and finished fourth, while Eunsoo Lim, Korea, who showed a mature performance to El Tango de Roxanne, ranked fifth. She is a much more attractive skater to watch at the venue rather than through the TV screen.
Men Short Program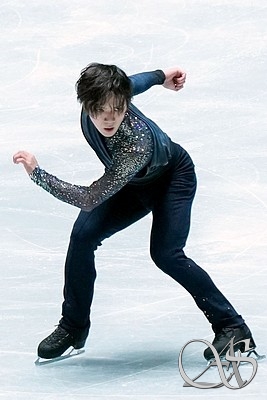 Japan's Shoma Uno won the short program. He included two quads (flip and toe), a triple Axel, and showed an overall beautiful performance to Oboe Concertos by Marcello and Vivaldi. I'd rather call his short program art on ice. There were no major mistakes, which was one of the reasons the audience enjoyed his performance so much. He scored 102.58 points.
Skate America winner Vincent Zhou, USA, skated to his name, Vincent, and the nostalgic atmosphere of the song matched his step sequences and lively performance, creating a fascinating world on the ice.
Junghwan Cha of Korea skated to the Fate of the Clockmaker with speed and gained a season best of 95.92 points. He captured the eerie atmosphere of the song and his energetic step sequences captured the audience, who gave him a standing ovation.
Russia's Makar Ignatov took fourth place with 90.54 points, presenting a flawless performance including amazing spins.
Sota Yamamoto of Japan came through with another incredible performance. His smooth skating skills and the way he used his whole body to express the music, earned him 86.05.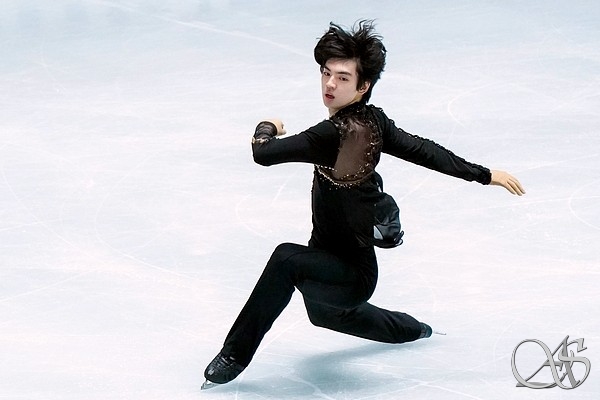 Day 2
Pairs Free Skate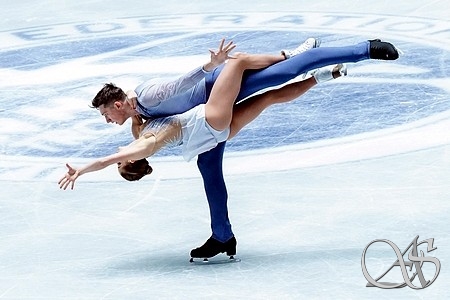 Anastasia Mishina / Aleksandr Galliamovnailed their two programs to win the competition with the total score of 227.28. In the free skate, they showed a beautiful performance filled with high level elements without any interruption of flow of their movements, along with the mellow and emotional song The Snowstorm by Georgi Sviridov. The serene atmosphere of the choreographic step sequence and the immediate change of tune to bright and energetic was a delight to watch. This will be one of the featured programs of this pair during this season.
Evgenia Tarasova / Vladimir Morozov, in second place, gave a convincing performance as veterans, but made a series of small mistakes, including two failed landings of throw jumps, and could only earn 137.49 points. This resulted in an overall score of 209.42, but their graceful yet powerful performance proved that they are among the top pairs, and I was too drawn into it to remember I had to report on it. Sorry!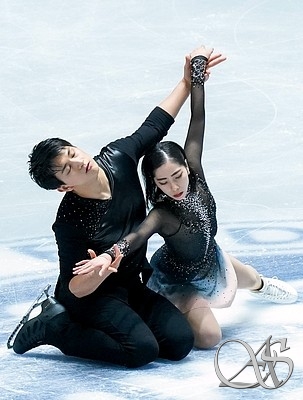 Riku Miura / Ryuichi Kiharaof Japan made it to the podium again, just like at Skate America. This newly-formed pair, whose scores and performances are improving with each competition, has a unique charm. Their ability to be expressive in addition to smooth skating and elements that become more stable with each performance, makes them very promising. When I look at Ryuichi, I am reminded of what he looked like two years ago; the pained expression on his face before he switched partners. He looks so different now which shows how important chemistry is in a skating partnership. In the free program, they renewed their season best of 135.44 points and got a total of 209.42, again.
Ashley Cain-Gribble / Timothy Leduc had a satisfactory performance with good speed, but fell on a throw jump, and only finished 4th with 132.04 points, 202.79 overall. Their lift positions were difficult and their spins beautiful. Audrey Lu / Misha Mitrofanov, USA, finished 5th. They had good transitions from the low key beginning to the exciting end, but made a lot of small mistakes. They got 125.08 points for their free skate and 190.03 total.
Free Dance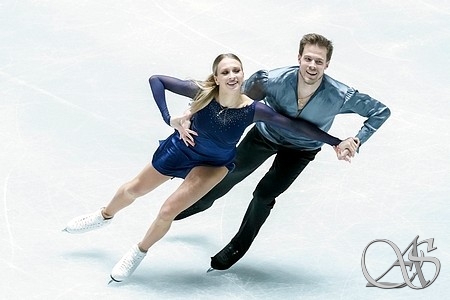 Victoria Sinitsina / Nikita Katsalapov conquered the NHK Trophy with an artistic performance to Tango music by Rachmaninoff, scoring 129.11 for a total of 215.44. The first half of their free dance was graceful, as if their bodies played music on the ice.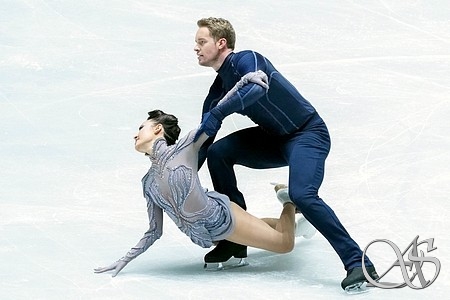 The second half changed the mood to energetic and passionate, as they moved quickly to the powerful music - very impressive! The silver went to Madison Chock / Evan Bates, with 124.76 for the free dance and 210.78 overall. It was a very entertaining and unique program, showing the concept of communicating with aliens (Daft Punk), as well as the grace of ice dance. It was a pity that Evan fell after the opening, which had such elaborate movements as to raise expectations for the program. Evan seemed to lose a bit of momentum, but he collected himself in the second half and involved the crowds. The third place performance by Lilah Fear / Lewis Gibson was even more entertaining; they fully expressed the brave and bright jungle life of the Lion King. They dazzled the audience with their signature danceable moves, scoring 115.48 for a total of 191.91.

Misato Komatsubara / Tim Koletto and Kana Muramoto / Daisuke Takahashi, who are the rivals for one Olympics spot for Japan, each presented their unique performance. Misato / Tim - who call themselves Coco-, appeared first and skated to the score from Sayuri. This piece, written by an American novelist and featuring a Japanese geisha, was a perfect program for them to perform. The sad story unfolded on the ice, appealing to the audience with its unparalleled beauty. In terms of expression, it was a mind-blowing performance and perfectly suitable for the Olympics; I would sure like to see it there. On the other hand, Kana-Dai - which is how Japanese fans refer to them - chose Western-style ballet music (La Bayadere), and reproduced that world beautifully. Their fabulous performance captured the crowds' hearts. Now Japan has two fantastic ice dance couples, I only wish both of them could compete in Beijing, but that is a dream that will never come true. The result of their different choices of Japanese sentiment and Western culture was that Kana-Dai won this time. The margin between their 179.50 points and Coco's 172.20 wasn't so big, and the race between them will be decided at the Japan Nationals at the end of December.
Women Free Skate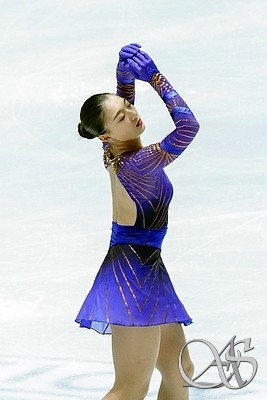 Kaori Sakamoto dominated this category with her dynamic yet elegant performance. She seemed to have had some difficulty adapting to this program in the beginning of the season, but in the Grand Prix series, she seemed to be completely at home with it. It was a program that showed her greatness and strength as a skater. She scored 146,78, her best of the season, with a 223.34 total. She shows her strength on the ice, but off-ice her charming personality shines through, which is one of the reasons for her popularity. Before putting her mask back on in the kiss and cry she showed her adorable smile, which made her fans happy. 
Mana Kawabe's triple Axel attempt turned into a double and she took a fall, so she finished only 4th in the free skate with 131.56 points. But thanks to her lead in the short program, she won silver. The rest of her jumps were all perfect, and she earned 205.44 overall. Her uninterrupted and flowing performance showed off her youth and energy, and gave us great expectations for her future. Young You was second in the free with 135.52, but ended up third overall. Like Mana, she had a fall on the triple Axel, and two under-rotations, but her high PCS, big and clean jumps, and other elements gave her more points than Mana and Alysa. She is a varied skater, so her performance was just thrilling.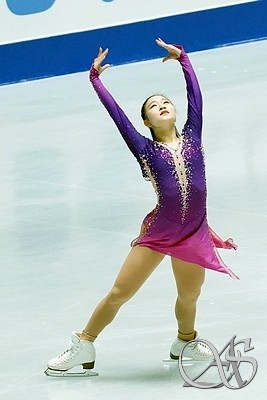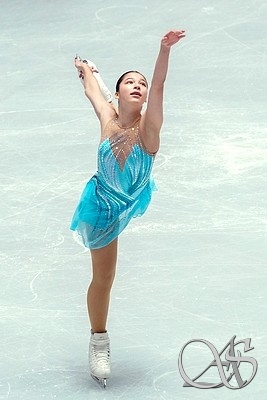 Alysa Liu landed her triple Axel and her other jumps were highly rated. Her spins were all level 4. This 16-year-old is very graceful, yet bright and charming. Despite missing one of her jumps, Eunsoo Lim scored 121.45 and finished fifth with an overall score of 186.68. Rino Matsuike skated a clean and beautiful program to Beethoven's Moonlight sonata, and placed 5th in the free program. But Eunsoo's overall points were higher so Rino placed 6th.
Men Free Skate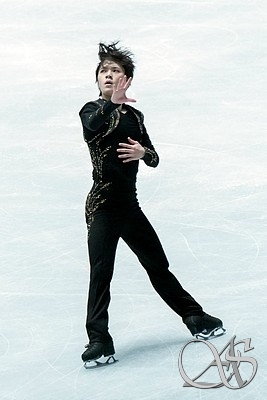 The final event of the NHK Trophy was the men's free skating. Shoma Unoshowed a strong sign of recovery, winning the event with a free skate season-best of 187.57 and a total of 290.15. He was one step ahead of the rest of the field in Japan towards earning that Olympic spot, having qualified for the Grand Prix Final. And his artistic, yet technically very high-level program deserves it. The audience was totally taken by his performance, even though he made the mistake of doubling the planned quad flip and executing only two combinations.
In the free skate, there was a substantial change in the ranking from the short program. Alexander Samarin, Russia and Matteo Rizzo, Italy finished second and third respectively, both with scores over 170 points. But due to the many points earned in the short program, Junghwan Cha and Vincent Zhou finished fourth and fifth with 163.68 and 161.18 in the free skating, but still made the podium. Vincent was 2nd and Junghwan 3rd by a small margin of the overall score. Alexander's jumps were clean, including a very difficult quad Lutz, and he got high GOE in the other elements. Matteo Rizzo was only able to pull off one quad toe, but did it very well and his performance was quiet but strong, with a melancholy song (Two Men In Love). His enthusiastic steps were especially impressive. Junghwan showed a classy performance with graceful gestures. His step sequence with beautiful positions and powerful choreographic step sequence were wonderful.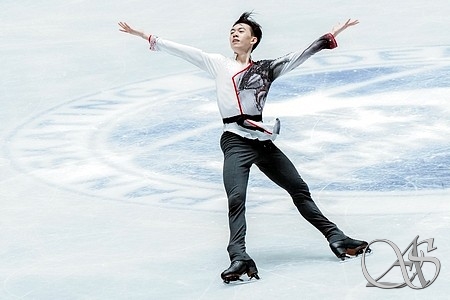 Vincent expressed the magnificent movie score from Crouching Tiger, Hidden Dragon, reminiscent of the Asian continent while using his full caliber, but due to a series of minor mistakes, he was not able to recreate his victory at Skate America. Sota Yamamoto and Kao Miura placed 7th and 8th. Since his recovery from his repeated injury, Yamamoto has been working hard to achieve his Olympic goal, and he is determined to give it his all at Nationals.
Unlike other years, the NHK Trophy completed the competition in two days, leaving only the exhibition to be held on Sunday. Although there was no vocal support in the venue (to avoid corona virus spread), the applause from the crowd and the sight of fans cheering, with some of them holding banners and flags, must have been a great motivator for the athletes. As it is the Olympic season, the representatives of each country will be decided from now on.
For the Japanese athletes, the Grand Prix events have been important in that sense. Shoma Uno and Kaori Sakamoto made it to the Final, taking a big step toward qualifying for the Olympic team. The Grand Prix series now had only two events left, in France and Russia. As the finalists are chosen, the anticipation for the Olympics grow higher and higher. I hope that COVID-19, which is still far from subsiding, will come to an end and that many people will be able to genuinely enjoy and cheer on the performances of the athletes.