Europeans 2022, day one: Russian dominance
January 13, 2022
By Titanilla Bőd
Photo © Iana Saveleva
What do you need to get a European gold medal in figure skating? Flawless elements, presentation full of passion, mental strength? For sure, all of these are essential. But first and foremost, you need a negative Covid test.
Europeans were cancelled last year due to the pandemic but by now skaters and spectators have got used to the "new normal". In Tallinn there is no bubble concept, but everyday testing is mandatory for skaters, coaches, officials and journalists.
On the first day there was already a withdrawal: it was Nikolaj Majorov of Sweden who was tested positive and could not compete.
Testing might be stressful, but nobody denies it is important. "If they told us to be tested twice a day, we would to it to," Mark Kondratiuk said.
To keep in shape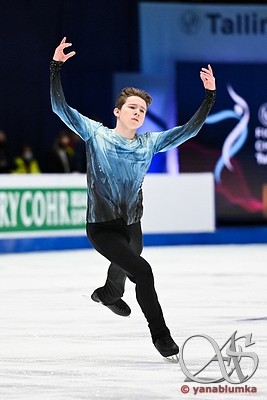 Russian men dominated in the short program. They are on the first three places, within one point of each other. The leader is Andrei Mozalev, who has the best memories of Tondiraba Ice Hall in Tallinn: in 2020 he won the Junior Worlds here. This year he competes at the Europeans as a substitute entry instead of the injured Mikhail Kolyada.
"I learnt about my participation only on Sunday, we had to fly to Tallinn on Monday. I prepared myself as usual, calmly. I was the first substitute, so I had to keep myself in good shape. My shape was good so I just had to keep it this way. I was ready to go any time," Andrei commented on his performance.
He managed to keep his shape indeed: in his routine to the music Heart Cry by Drehz he landed a quad toe, triple toe combination, a quad Salchow and a triple Axel and earned 99,76 points.
Difference of two hundredths
Reigning Russian champion Mark Kondratiuk showed his power and energy in his short program to the music of a popular TV series The Magnificent Century. He landed a quad toeloop, a triple Axel and a quad Salchow, triple toeloop combination and earned 99,06 points. Only two hundredths less, 99,04, was the score of Evegni Semenenko, who had a quad toe, triple toe combination, a quad Salchow and a triple Axel in his short program to the music What Is It About Her? by Nadim Naaman.
"It is my career-best score. It is good for today, but the most important thing is the free skating on Friday," Mark Kondratiuk commented on his performance.
"The short program is over, a huge thanks to the audience," Evgeni Semenenko added.
Tight competition in Pairs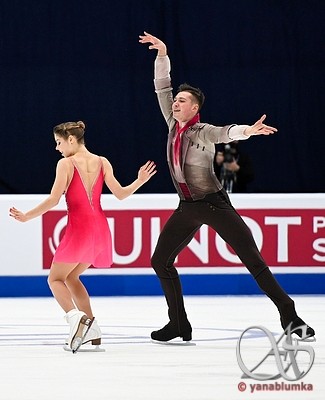 It wouldn't be such a risk to bet that in pairs there will be a Russian winner. But which duo can step on the top of the podium?
After the short program reigning world champions Anastasia Mishina and Aleksander Galliamov are in the lead. They skated their Esmeralda ballet-caricature routine flawlessly, with a triple twist, a triple Salchow, a triple throw flip and level four steps, spins and lifts. They earned 82,36 points.
"I think it's almost boring when there is no competition, someone is like 20 points ahead and here when it's just a little bit above it's nice to have the competition," Anastasia stated.
In Tallinn there is no chance for boredom as Evgenia Tarasova and Vladimir Morozov are behind the leaders by less than a point. Their short program score is 81,58 points.
The 2020 European champions Aleksandra Boikova and Dmitri Kozlovskii had a small mistake in their powerful Swan Lake program. Aleksandra doubled the Salchow, so they are currently third with 76,26 points.