Europeans 2022, day two: Mishina and Galliamov take the crown
January 14, 2022
By Titanilla Bőd
Photo © Iana Saveleva & Titanilla Bőd
This is not the usual order: to have a debut at the European championships as the reigning world champions. But that's what happened to Anastasia Mishina and Aleksander Galliamov at the Europeans and Tallinn. Russia's pairs dominated the competition, but in women's field also a non-Russian skater earned a small medal.
Who let the dog out?
Short programs are over. Before the small medal ceremony and the press conference the press centre is somewhat quiet, everyone is writing, tweeting, posting, looking at their screens. Then a dog appears from under the chairs, runs around and disappears again.
Wait, what? A dog?!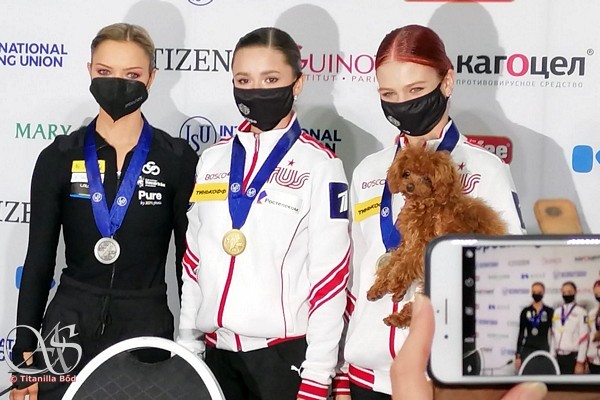 Alexandra Trusova of Russia didn't have a flawless short program in Tallinn, as she fell on her triple Axel, but she absolutely stole the show at the press conference. Or, to be more precise, it wasn't her but her dog Cruella, aka Ellotchka, a Chinese teacup poodle.
"I love taking the dog with me to the competition, the hotel room becomes cozy and it makes the room more comfortable, you are like home because the dog is there. Ellotchka loves travelling, she loves being on the ice. She is the only dog that runs on its own onto the ice. She is not afraid of anything," Alexandra proudly said about her dog while petting her in her lap.
In the short program Trusova fell on the triple Axel attempt, but landed a triple flip and a triple Lutz, triple toeloop combination. She earned 75,13 points.
Gorgeous programs
For Loena Hendrickx, this Europeans haven't been the most relaxed event. Before she even stepped on the ice, she had to deal with lost baggage. "It was really stressful. They told me your luggage is really lost, so I was really stressed about that. But in the end they just switched my brother's name with mine on the luggage," she explained.
During her program she showed no sign of stress, fear or other paralyzing emotion. In fact, she skated a gorgeous program with a triple Lutz, triple toeloop combination, a double Axel and a triple flip. Her reward is a personal best score – 76,25 points – and a small silver medal after the short program.
In the lead with a huge margin is Kamila Valieva, the new Russian prodigy. She is only 15, but she creates magic on ice. She started her etheric program with a triple Axel, and landed a triple flip and a triple Lutz, triple toeloop combination. Level four spins and steps in addition earned her 90,45 points altogether.
"Today I really felt that I am in the program, that I am telling the story, it's a nice feeling when you skate and you forget about your body, you are all in the program, in the audience, in the judges. It's so inspiring and you are so high after - you are even higher after the skate. I am thrilled I was able to score 90 points in the short program," Kamila commented on her performance.
Strong performances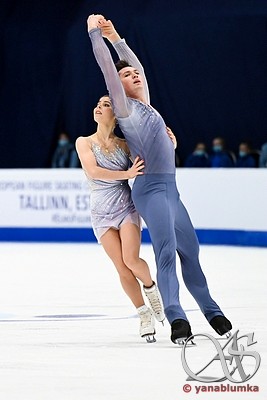 Russia swept the podium in pairs. All the medallists delivered great performances as - the probably most supportive figure skating journalist on the planet - Jean-Christophe Berlot stated at the press conference: they all could have become world champions with those programs, even though it is Europeans.
Reigning world champions Anastasia Mishina and Aleksander Galliamov took the gold medal with a free skate that contained a triple Salchow, triple Salchow combination, a throw triple flip and loop. Their overall score of 239,82 points was more than three points higher than the score of their closest rivals Evgenia Tarasova and Vladimir Morozov. At the beginning of the program Tarasova over rotated her triple Salchow a bit, but after that the rest of their performance was clean and they earned 236,43 points.
Reigning European champions Aleksandra Boikova and Dmitrii Kozlovskii also had a strong free skate. Their overall score was 227,23 points.
"This victory feels different than last year in Stockholm. Back then there were not so many competitions, we just went to Worlds and won. Now we have competitions every three weeks and it feels like we are in the season and go forward step by step. We have the result and we are happy about that," Anastasia said.