Europeans 2022, day three: a night of emotions and unmasked smiles
January 15, 2022
By Titanilla Bőd
Photo © Iana Saveleva
Mark Kondratiuk of Russia captured the gold in the men's event in Tallinn. In ice dance there is also a Russian couple in the lead; Viktoria Sinitsina and Nikita Katsalapov.
Rock your body
When ice dancers first heard the theme of the rhythm dances for this season, they were a bit puzzled. Street dance? What could fall into this category?
"It was not easy to understand what we were supposed to skate on. As we were trying to find some music that suited us, we tried to focus more on the characterization of the rhythm dance. We decided to skate on a Michael Jackson medley, so we could put the funk music, rock music and disco music in the same program," Marco Fabbri of Italy revealed. With his partner Charlene Guignard they are currently third with 83,35 points.
Alexandra Stepanova and Ivan Bukin earned a new personal best and with 86,45 points they are in the second place. To the tunes of Backstreet Boys' Everybody they delivered a fierce routine. "Our music was picked a long time ago for an exhibition program. Unfortunately or fortunately we didn't have a chance to use it. When we were working on the Rhythm Dance we decided to try it. We needed a piece that would turn us and the audience on so we took that music," Alexandra Stepanova said.
In the lead are their compatriots and reigning champions Viktoria Sinitsina and Nikita Katsalapov, who racked up 87,89 points. It was not easy for them to prepare for the competition as Nikita's chronic back injury got worse after the Nationals.
"I got into the hospital and my doctors did a lot of things with my back to help. I had a lot of physiotherapy and it's getting better. I think a lot of my back when I'm practicing - it's a very important season. I still have the problem and I can only solve it during the off season. I need time to repair. Now it's good, no pain," Nikita stated.
Memorable programs
It's been a long time we've seen such a high level of skating at men's competition at the Europeans. Spectators in Tallinn witnessed many memorable programs. For Michal Brezina it was his last European championships and he decided to go for a clean program without a quad. His reward was a huge ovation, while he kneeled on the ice trying to process the moment and the emotions.
Kevin Aymoz fought back after a messed up short program with a strong performance, even though he stumbled when going into his second triple Axel. "My blade got stuck in the fabric of my pants, and I was scared to jump. This is the moment in my program when I was going to rest, to take a breath, but my blade got caught and I thought, 'Oh no! I'm going to die! This is not the time for sleeping!' I was very scared," Aymoz described the unusual moment.
Deserved medals
Deniss Vasiljevs is a crowd favourite, especially in a neighbouring country to Latvia. He's been around for a while and always stood out with his unique style, but he never medaled. Until now. In his Romeo and Juliet routine in Tallinn he landed a quad Salchow, two triple Axels and six more triples. His overall score was 272,08 points and this earned him the bronze medal. "It was really incredible to feel all this energy and exchanging the passion for the sport and art we are all here to see. Thank you very much for the support and the love," an ecstatic Deniss said. He won a historic first medal for Latvia. "I think it's a milestone in my journey of which I don't know where it leads yet," he added. Daniel Grassl was rightly proud about his performance. In his long program to the soundtrack of Armageddon he landed three different quads, a Lutz, a flip and a loop along with seven triples. He earned 274,48 points altogether. "I'm very happy for this medal because after the 4th place in Graz I was very disappointed. I was around 1,5 points from the second place. I was very pressured for these Euros because I knew I could go for the podium", Grassl said.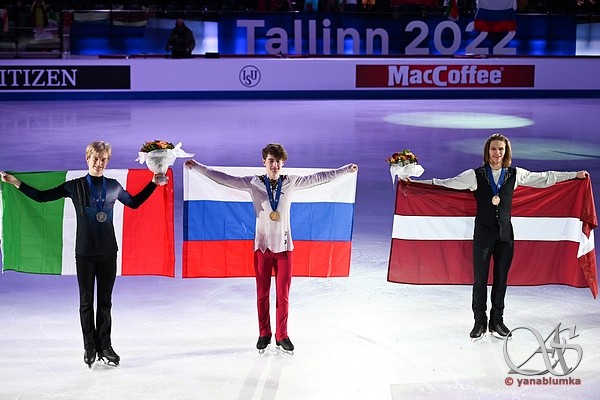 Mark Kondratiuk Superstar
Reigning Russian champion Mark Kondratiuk didn't let the pressure affect him either. His compatriots Andrei Mozalev and Evgeni Semenenko made mistakes, Kondtratiuk was clean and sharp. Skating to Jesus Christ Superstar he landed three quads, a toeloop and two Salchows, one in combination, two triple Axels and four more triples. With overall score 286,56 points he won the gold medal. "That was unexpected. I was just hoping to make the top three, like I was hoping for that at Russian Nationals. Some kind of miracle happened," the new champion said. During the victory ceremony he was fighting hard to hold back tears – 18-year old guys don't really want to cry in public, even if they have just won a major title. The atmosphere in the Tondiraba Ice Hall was overwhelming, maybe that was the reason why the organizers let the medalists on the ice without a mask. It was truly uplifting to see all those happy faces, because not only viruses but also smiles are contagious...