Europeans 2022, day four: a defending and a brand new champion
January 16, 2022
By Titanilla Bőd
Photo © Titanilla Bőd
There were no surprises about the medalists on the last day of the European championships in Tallinn. As expected, Victoria Sinitsina and Nikita Katsalapov won the ice dance, while in women's category Kamila Valieva triumphed.
Journey to the top
The free dance of reigning European and World champions Victoria Sinitsina and Nikita Katsalapov is very special. It portrays the journey of the two skaters they've taken together. This journey definitely had some hardships, but the Europeans in Tallinn will stay with them as a very pleasant memory.
"It felt very easy to skate for me today, I was really enjoying myself. This program is about us, our life and we try to bring across all that to the spectators," Victoria said. They got a new season's best and won the competition with a total score of 217,96 points.
Their compatriots Alexandra Stepanova and Ivan Bukin also skated really good and this meant a personal best score for them. With 213,20 points they finished second.
"We are happy it's almost 5 points more than we had. We made some changes to the free dance. We added speed and frankly we are happy with today's skate. We are thrilled to be silver medallists for the second time, in the Olympic season the result and the skating are important," Alexandra underlined.
Without the coach on their side
Charlene Guignard and Marco Fabbri of Italy won the bronze medal, earning 207,97 points. However, it was not an ordinary competition for them.
For the first time in their 12-year-old cooperation they had to compete without their coach Barbara Fusar Poli. "It wasn't easy for us mentally and physically because we didn't have our coach by our side, because she tested positive yesterday. This was the first competition in 12 years without Barbara. We are even more proud of what we did tonight," Marco emphasized.
Pure joy
If there would be an award for the cutest Kiss & Cry reaction, it would go to Ekaterina Kurakova of Poland. She delivered a great Charlie Chaplin themed free skate and was more than excited while waiting for her score.
"I was really hoping I would hit the 200 points and while I was sitting there, waiting, I kept chanting 'Please! Pease!' I wanted it so badly! I am so happy about the season's best as well! Super super happy," said Ekatarina Kurakova who finished on the fifth place with an overall score of 204,73 points ecstatically.
For Loena Hendrickx it was a less satisfying performance: she fell two times and dropped from second to fourth place. "I've had a rough time training for these Europeans. I had a lot of headaches and couldn't handle the light and couldn't do my jumps or spins. I had to skate for two weeks in glasses. But this is not an excuse for the free program because the short program was good," she commented on her performance.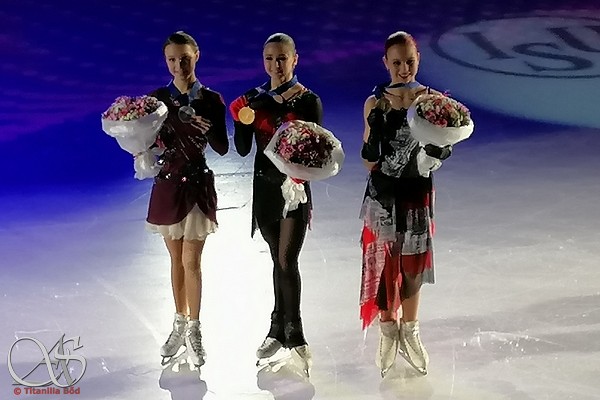 Young champion
Students of Eteri Tutberidze are from a different league than the rest of the field. They land various quads, often also a triple Axel. The technical content of their programs is so high that they could also aim for a medal in the men's field with it.
In Tallinn, Kamila Valieva won the free skate even though she fell on the triple Axel. She landed three quads and with a total score of 259,06 points she became European champion. At the age of fifteen.
"Something did not work out, something on the contrary worked better. Ice is slippery and we will work on the things that did not work. I am very happy to be here at the European Championships with all the other great athletes. It is a great experience for me," Kamila stated.
The free skate of Anna Shcherbakova featured only one quad, but since it was clean, she almost matched Kamila in this segment of the competition. However, she lost many points in the short program which made her finish second with 237,42 points.
Aleksandra Trusova attempted four quads in her Cruella free skate but landed only two. In the end she grabbed the bronze medal with 234,36 points.