Japan Open 2022
November 3, 2022
By Ayaka Okumura
Photos © Kasumi Nabikawa
This event was held at the Saitama Super Arena in Saitama, Japan, on October 8, 2022. As Absolute Skating has reported in the past, Japan Open is positioned to kick-off the international competitions circuit for Japan's figure skating season. This year, Japan Open was even more special as it was the first competition again opening up for international skaters (while the last two seasons were for Japanese skaters only).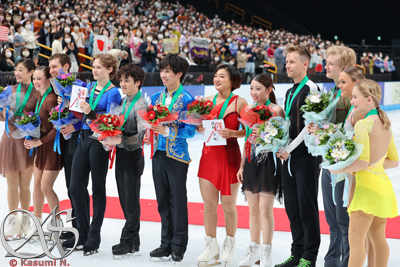 Japan Open is a team event where 3 regional teams, Japan, North America, and Europe, compete in free skating with 4 single skaters on each team (2 men and 2 women). Unfortunately, prior to the event, some notable skater changes occurred: on September 28, it was announced that guest skater Nathan Chen had withdrawn due to injury, and on October 5 we found out that Japan team skater Yuma Kagiyama also had withdrawn due to injury and Kao Miura replaced him. And the day before the competition, North America's Bradie Tennell withdrew, also because of injury, and was replaced by Mirai Nagasu, who happened to already be in Japan practicing for an upcoming ice show (Stars on Ice JAPAN TOUR 2022, Autumn in Hachinohe, Aomori on October 9-10, 2022). No other North American skater could make it to the competition in Japan at this point anyway.
The Saitama Super Arena is one of the biggest in Japan and it was so ready for this year's first Japanese international competition with over 7 800 spectators. Although everyone were still required to take strict COVID safety measures, such as wearing facial masks and not cheer vocally (although some people did anyway), they seemed quite happy to have Japan Open back to normal with international skaters.
The opening skater introductions on ice for this year's teams looked like this:
- Team North America: Mariah Bell (USA), Mirai Nagasu (USA; retired), Ilia Malinin (USA), Jason Brown (USA)
- Team Europe: Ekaterina Kurakova (POL), Loena Hendrickx (BEL), Daniel Grassl (ITA), Michal Brezina (CZE; retired)
- Team Japan: Rika Kihira (JPN), Kaori Sakamoto (JPN), Kao Miura (JPN), Shoma Uno (JPN)
Similar to the World Team Trophy, each team had their team bench/ kiss & cry decorated with the team color (blue for North America, yellow for Europe, and pink for Japan).
Women
This competition was definitely a big event for Mirai Nagasu. She retired after getting a bronze medal in the 2018 Olympic Games team event (who can forget her historic triple Axel!), and is currently working as a coach. Japan Open allows retired/ professional skaters on the teams and due to the last minute withdrawal of Bradie Tennell, Mirai was asked to take her place. But that gave her just a few days to rearrange her program Warriors to a competition program, in accordance with the latest technical rules, and take the ice to compete in front of spectators for the first time since her retirement. She had a smile on her face but also looked rather nervous. While in the starting position, she received loud cheers from her Stars on Ice mates who were invited as guests to the event. Mirai was not completely ready to compete and actually had to stop for a moment to catch her breath before going into the step sequence, but she made it! She finished her 4 minute program, including 5 triples, and received a shower of grand applause from the entire crowd, who appreciated how difficult this was for her.

Ekaterina Kurakova was one of the skaters Japanese skating fans had waited a long time to watch live, and she finally made her debut in Japan at this Japan Open. She also seemed to enjoy skating in front of this audience and finished her program happily smiling and forming hearts with her hands.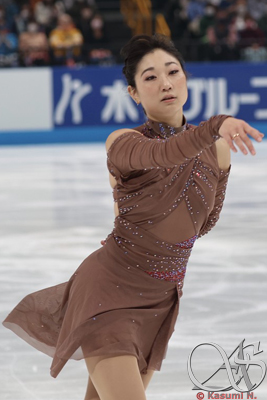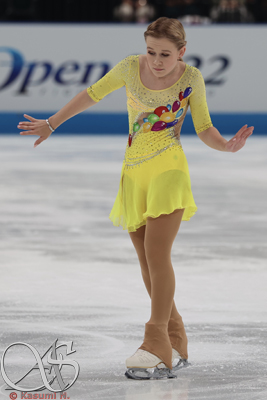 Rika Kihira skated in an international competition again for the first time since the 2021 World Team Trophy, after having to skip the 2021-2022 season due to a foot injury. At the press conference the day before the event, she mentioned that she had hesitated skating for Team Japan at Japan Open, since the Chubu Sectionals were held only a couple of weeks earlier. But with good news from the latest medical exam and her willingness to skate in an arena with an audience (the Chubu Sectionals had no spectators), she decided to participate at Japan Open. She performed her continued long program Titanic and the crowd welcomed her back with warm applause. Although she had to alter some planned program content to avoid aggravating the injury, she still delivered a beautiful program, and the audience could not wait until the end of her performance, but rose to their feet in a standing ovation in the middle of her last spin.

Mariah Bell skated to Both Sides Now with great feeling and was warmly received by the audience. She waved back to the stand, bowed to the rink, and touched the ice for a long time before exiting. Her teammate, Michal Brezina, acted as her coach at this event and welcomed the teary eyed Mariah at the rinkside, followed by hugs by her other teammates.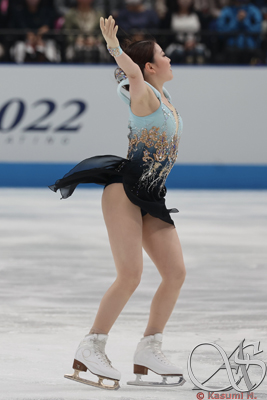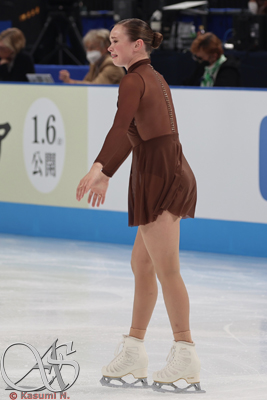 Loena Hendrickx was another long-awaited skater for Japanese skating fans, together with her brother and coach Jorik Hendrickx. Loena delivered a strong Poeta free program scoring 132.53 points (the second highest, after Kaori). There were so many elements that wowed the audience: flawless landings, the beautiful choreographic sequence, and Loena's grit to recover the three-jump combination after stepping out of the triple flip. Impressive!

The last skater in this category was the National and World Champion, Kaori Sakamoto. She skated to Elastic Heart, choreographed by Marie-France Dubreuil. The music, with strong vocals, matched Kaori's strong skating. The brightly red dress also added to the power image as she worked her way through jumps, steps and spins and an even stronger choreographic sequence. Although this was not her best performance, she seemed quite relieved after finishing this difficult, yet relatively clean, program. At the press conference the day before, Kaori had mentioned feeling down after her recent performance at the Lombardia Trophy (September 16-18, 2022) where she finished second. She also said she had had some issues with her triple-triple combinations. Her strong performance at Japan Open hopefully restored some of her confidence and put her back on track.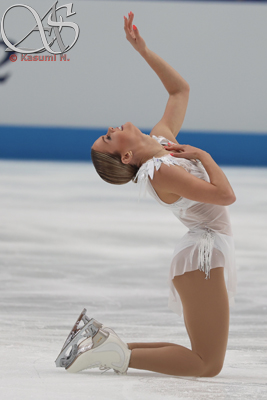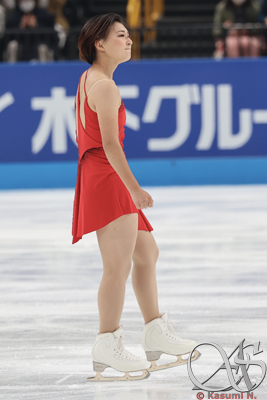 Men
Everyone in the arena, including the skaters themselves, trembled with excitement for the upcoming group when the warm-up started. The biggest attention was given to the young "Quad God" Ilia Malinin who landed the first ever quadruple Axel at the US International Figure Skating Classic (September 12-15, 2022). There were hopes he would repeat it here for the audience to witness. Indeed, Ilia had successfully landed a quad Axel in practice the day before, and he had 7 quads, no doubles or even triples, in his program content.

The first skater was Michal Brezina who announced his retirement after the 2022 Olympic Games. He skated to his favorite rock music, a Bryan Adams medley, and the audience clapped along with the music from the beginning to cheer on this 32-year-old skater, who has skated many times in Japan throughout his competitive career. He kicked off his program with a beautiful triple Axel, although 4 falls followed after that. But like for Mirai Nagasu, who skated earlier that day, the audience understood how hard these 4 minutes can be for retired skaters, and gave even bigger applause to them. Michal was awarded a standing ovation.

Kao Miura, age 17, is Japan's rising star who won the 2022 Four Continents bronze medal when he was still a junior, so this was actually his senior-debut season. Although he was the substitute for Yuma Kagiyama, he was more than capable of contributing to Team Japan's points with four quadruple jumps planned. He had just finished the Tokyo Sectionals a week earlier, where he showed his free program, Beauty and the Beast, for the first time with 3 quads and finished second. Now he entered the Japan Open with 4 planned quads and the first 3 were clean, including the loop. Unfortunately he popped the fourth one, a toe, in the second half of the program. Yet, he scored 169.94 points which was his new personal best. He seemed quite surprised, but happy, when he saw his score.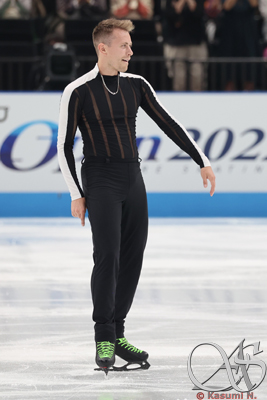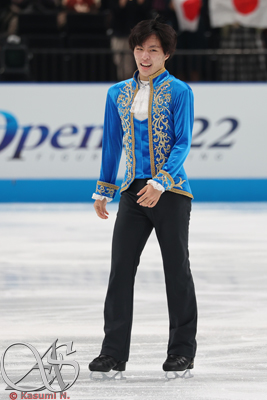 Next up was Jason Brown, who skated to The impossible dream. Jason's skating is beautiful and artistic, and he scored 91.88 points for program components which was the second highest among the participants. He is known for being a fan of Japanese culture, and he told the audience "Thank You" in Japanese (Arigato Gozaimasu) after finishing this performance, which earned him a standing ovation.

Daniel Grassl is another skater known for being able to land both the quad Lutz and flip, and he did both of them at Japan Open as well. He is also very flexible and finished his program with a signature spin. Daniel scored the highest among the Team Europe members.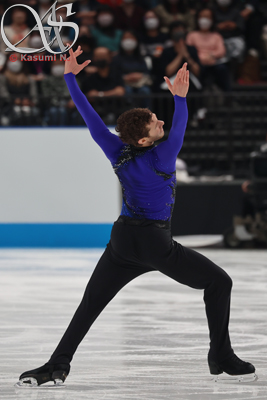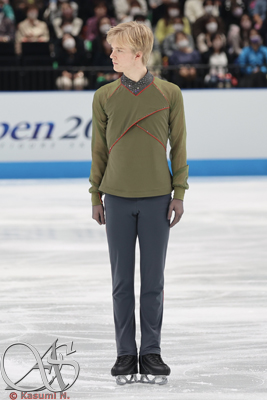 Shoma Uno, accompanied by his famous coach Stéphane Lambiel, debuted his new free program Air on the G String for the first time in competition (he did perform this program at ice shows during the summer). He planned 5 quads and landed 4 of them clean, including the flawless loop as his first jump. The only jump he missed was the flip, in spite of it always having been his favorite. As he said at the press conference the day before: he planned and would execute only combinations of 2 jumps at this competition. The quad toe-triple toe combination has been an issue for some time now (and he doubled the second jump again at this competition), he could land it at practice but not in competition and therefore he is somehow trying to find a solution.

The last skater was Ilia Malinin. Everyone focused on his path to the quad Axel to witness the moment, but unfortunately it turned into a step out. Yet, this mistake did not affect the following jumps at all, and he went on to nail 5 quads scoring his personal best of 193.42 points. This high score was only 0.38 behind Shoma Uno's 193.80. This was mostly due to the difference in program component for which Shoma scored higher. But Shoma mentioned during the press conference that this difference will be smaller and smaller as Ilia continues his senior career, and pointed out that Ilia is not just about the quadruple Axel, but that all of his jumps are very stable and that makes Ilia even more special.
Ilia is flexible and does deliver beautiful spins, and all of his spins were awarded level 4 at this competition. Skaters, fans, and media alike are very excited about Ilia's high potential and what he will do for the sport in the future.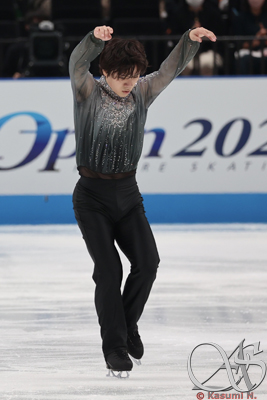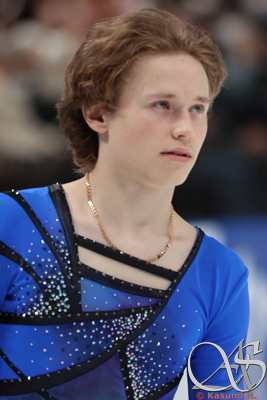 Team Japan won this team event scoring a total of 623.84 points, with Team North America in second place with 577.27 points, and Team Europe in third with 512.49 points. This year's Japan Open was such a thrill, not only because of being back to an international competition but also by the many powerful and graceful performances by all the skaters. Some of them are expected to return to the Saitama Super Arena for the 2023 World Championships, and as the season continues it will be really exciting to try to predict which ones will be back to represent their countries in March of 2023.