NHK Trophy 2022
January 12, 2023
By Atsuko Kuryu
Photos © Keiko Kasai
The 2022 NHK Trophy, the fifth round of the Grand Prix Series, was held at the Makomanai Sekisui House Ice Arena (Japan), November 18 - 20. After 2 days of fierce competition, 8 skaters / teams qualified for the Grand Prix Final. Let's look back day by day at the exciting competition to see how the battle unfolded and who won the tickets to the final in Turin, Italy.
Day 1 Pairs - Short Program
The competition was kicked off by the pairs, six of them competing, beginning with the short program. Riku Miura / Ryuichi Kihara, Japan delivered an excellent performance, earning big plus GOE ratings in all elements and a personal best of 78.25 points. Being last out, they showed off all their qualities of power and grace. Their skating technique, speed, expressiveness and musicality were all outstanding. In the post-performance press conference, they were happy having achieved their goal of level 4 in all elements, except the throw triple twist.
Second place went to Emily Chan / Spencer Akira Howe, USA, who scored 64.62 points. Their performance was impressive, with smooth movements while expressing the power of the music (Nyah) beautifully. To the press they reflected on their performance and said they were satisfied with the energy they put into their skate and that the Japanese audience seemed pleased with the outcome.
Canadians Brooke McIntosh / Benjamin Mimar placed third with a consistent technique and a score of 62.31 points at their first senior event. Both Emily / Spencer and Brooke / Benjamin said they had looked forward to coming to Japan, and felt honored to be in the competition. Irma Caldara / Riccardo Maglio, Italy, expressed their joy in the kiss and cry over their personal best score of 58.96, points well deserved.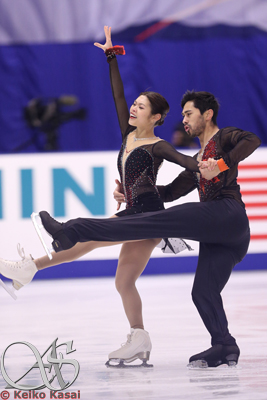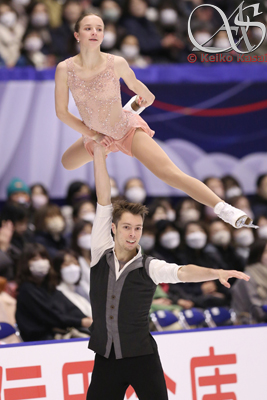 Women - Short Program
While the favorite lady, Kaori Sakamoto of Japan, lost some of her points due to a flawed combination, Korea's Yelim Kim took the top spot with a near perfect performance, scoring 72.22. She executed all three spins at level 4, and earned high GOEs on all elements. Her performance was graceful and kept good speed throughout, and her extended Ina Bauer in the second half was impressive. Kaori placed second but said she had felt anxious due to a series of failures during morning practice. She made some mistakes on two jumps in the short program, and received a negative GOE to finish with only 68.07 points. In the mixed zone interview, she recalled all the hard work for the Olympics and Worlds this year, which, in many ways, made her lose concentration.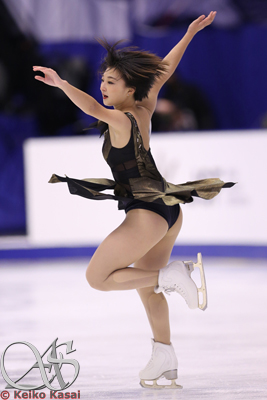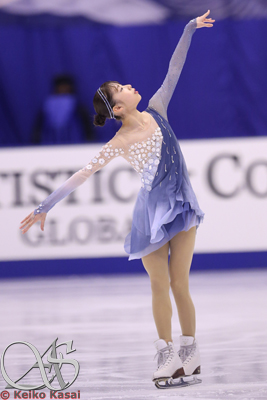 In third place, Rion Sumiyoshi, who placed third in the MK John Wilson Trophy, used her natural elegance and nailed her performance to set her hopes on a Grand Prix Final spot, while Rinka Watanabe, who won the title in Skate Canada, made a series of jumping mistakes and dropped to ninth place, hoping to catch up in the following day's free skating.
Fourth place went to Audrey Shin of the USA, and a close fifth to Starr Andrews, also USA. Both of them have been consistent this season so far, and thrilled the audience with their calm and almost flawless performances receiving 65.87 and 64.13 points respectively.
Ice Dance - Rhythm Dance
Since the theme of the Rhythm Dance for the 2022-23 season is Latin dance style, many couples performed in a fierce and strong way. Laurence Fournier Beaudry / Nikolaj Soerensen from Canada, however, showed a graceful performance with soft movements, and won the short program with the personal best of 85.66 points. They emphasized the beauty of Laurence's positions and her beautiful posture in the stationary lift, which was particularly impressive.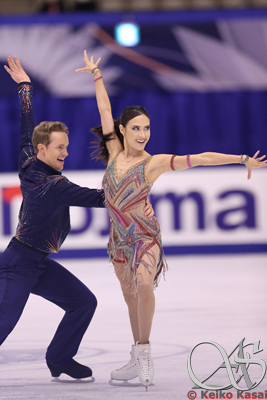 At the press conference, Nikolaj said it was the first time they were in first place and it felt unusual, but they had set high goals and reviewed their training this season, so it might not be such a surprise after all.
Madison Chock / Evan Bates, USA, came in second. Their dance was well synchronized and graceful, but the lack of level in the midline step sequence unabled a higher technical score. Madison said about their performance that she was happy the two of them were able to involve the audience and share the energy. Their score was 85.00 points.
Caroline Green / Michael Parson, USA, who almost made the podium at Skate Canada, became third with a personal best of 77.00. Michael was pleased that they'd been able to improve their rhythm dance performance since Skate Canada. He added that although they would like to be in third place after the free skate, they were mostly aiming to have a good performance.
Two Japanese couples of almost equal records so far in the Rhythm Dance, are Kana Muramoto / Daisuke Takahashi and Misato Komatsubara / Tim Koleto. Kana / Daisuke showed their enthusiastic Latin dance, scoring 75.10 to take fifth place, while Misato / Tim earned 66.65 points and finished eighth. Misato / Tim's movement was worth seeing, but Kana / Daisuke had a Latin intensity. Although the GOE score and the second mark actually came to decide their rankings, it seemed like the level of passion and energy directly reflected in the difference in points.
Men - Short Program
World Champion Shoma Uno saw Sota Yamamoto, who came in second in France, rise to first place with a season-best of 96.49 points. All of Sota's spins were level 4, and his jumps and step sequences also received high plus GOE scores. His performance was in charming harmony with the melody of the Beatles' Yesterday. In the press conference he expressed his determination to forget about today and do his best tomorrow with a fresh mindset.
After a gorgeous quad flip, Shoma fell on his quad toe, the first jump of the combination, but still he stayed in second because of high points for the rest of the program. As for the success of his flip, which has often failed in practice recently, he noted that it might be the power of his experience of keeping jumping quad flips for so long. This time the quad toe failed, but he was still positive and said it was not a worrisome mistake.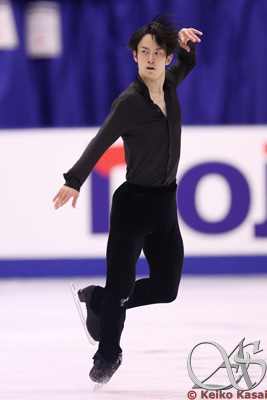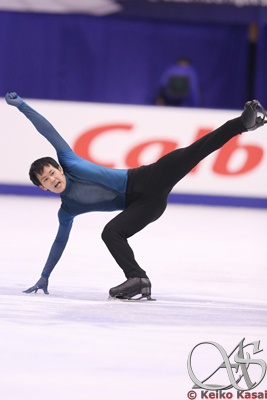 Adam Siao Him Fa of France, the winner of the GP in France, made a series of small mistakes in his jumps and finished third with 87.44 points. Talking about his short program with music by Ezio Bosso and its unique choreography, he explained that he knew great skaters who had skated to this music, but that he wanted to establish his own style and express something new. He added that he wanted to tell a story, and even while he was skating it, he felt like he was living that story. He also said that he wanted to add something modern to his programs.
Kazuki Tomono, who drew the audience in with a highly entertaining program, was fifth with 85.07 points. Nika Egadze from Geogia landed 2 quads and became fifth scoring 84.47.
Junhwan Cha of Korea stayed in sixth with 80.35 points after making some jump mistakes. Matteo Rizzo of Italy, who also showed a high-quality performance, got 78.57 points to be in seventh place.
Day 2
Pairs - Free Skating
Although only 6 pairs participated, it was a very rich competition with a lot of great performances. Riku / Ryuichi,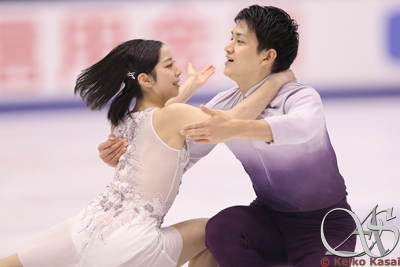 who won the title, looked exalted in the kiss and cry after seeing their high score, an overall of 216.16 points, which was their personal best. They always keep great speed, but Ryuichi's speed during lifts was particularly remarkable. The beauty of Riku's positions was also fascinating to watch. Their free program last season was elegant and gave us warm feelings, however, this season it was a breath of fresh air. They laid out their new charm successfully. Looking back on today's performance, Ryuichi said he was happy to have achieved a personal best, in spite of making many small mistakes. He expressed the joy from his heart at the press conference for finally being able to participate in the Grand Prix Final. (They secured a spot last year, but the competition was cancelled because of the Corona virus.)
Emily / Spencer came in second with 187.49 points total. Their performance was excellent despite some failed jumps. They started out mellow, but developed energetically, and as the music grew stronger in the second half, their power increased along with the audience's enthusiasm.
The young pair, Brooke / Benjamin, finished third. They did their best in their own way and managed a solid free skate with few mistakes. They displayed a dynamic but also emotional program to Les Miserables. They received 113.34 for their effort and 175.65 overall. As a result, Riku / Ryuichi and Emily / Spencer qualified for the Grand Prix Final.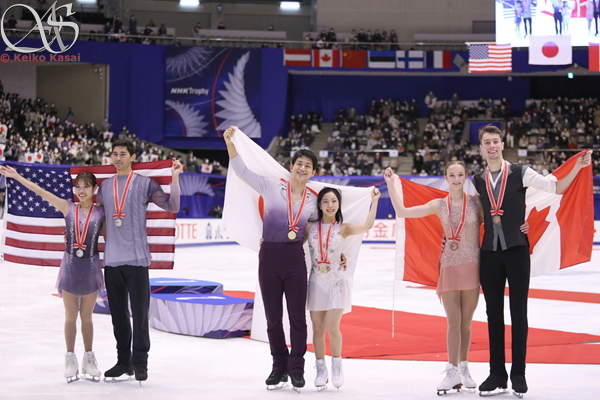 Women - Free Skating
The women's category was a showdown between two contrasting skaters: Yelim's feminine and graceful performance, and Kaori, a skater of energy and dynamics. Both of them made a few mistakes,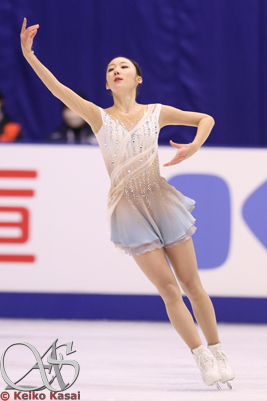 but Yelim finally won by just over 2 points. She had a hand-down on a loop and fell on a following flip, and finishing second in the free skate with 132.27. The margin from the short program paid off though, and she won with an overall score of 204.49. Her smooth moves, consistent jumps, and beautiful spins made her a queen in her own right. In interviews, she repeatedly expressed her joy, saying she could not believe she had won. Kaori skated with determination to make up for her mistake in the short program, and almost succeeded, had it not been for the final jump, a triple loop. Kaori's performances are characterized by speed and power plus her own elegance, and she showed it well in this free skate too. She won the free skate with a score of 133.80, but got behind Yelim by about 2.5 point and scored 201.87.
Rion Sumiyoshi took fourth place with 125.11 in the free skate to become third overall. She has class in her elegant but powerful performance, which looks like being powered by the magnificent music (Enchantress). She is like a fusion of Kaori and Yelim.
Audrey Shin, USA, placed fourth with an overall score of 189.00 points with no major flaws in her performance, which was smooth and seamless, like a flowing river.
Rinka moved up to fifth from yesterday's ninth place. She beautifully performed a Japanese-style program, scoring 188.07 overall. Even those who placed in the lower ranks had their own attractive characteristics, but Amber Glenn of the United States left a particularly strong impression with her lively portrayal of a modern woman in the short program, and her beautiful triple Axel in the free skate. In this game, Kaori and Yelim qualified for the Grand Prix Final, while Rinka had to wait for the result in Espoo, the sixth and final round of Grand Prix competitions. (Update: Rinka did get to go to Turin and placed fourth.)
Ice Dance - Free Dance
The overnight leaders, Laurence / Nikolaj, secured their top spot with a clean and brilliant performance which gave them 124.75 points and a 210.41 total. They took the ice dressed in black and white, and their performance was as clear and striking as their costumes. Their speedy movement was fabulous, and the elements all excellent and enthusiastic. This team seems to have suddenly burst into the top group, and is a strong candidate for new ice dancing stars.
Madison / Evan satisfied the audience with a quality
performance of elements that flowed from one to the next - absolutely beautiful. To use an analogy between the two couples, Lawrence / Nikolaj were like a sharp stainless steel kitchen knife and Madison / Evan were like the finest silver utensils. The margin between first and second was only 1.29. Nikolaj said they had a good experience with the support from the crowd which gave the skaters power. He added that they had gotten this far through many experiences; that though the road was long, he would like to tell those who are lost now "Even in the midst of chaos, if you get started you can achieve what you set out to do." Madison was proud of their achievement in the two weeks since Skate America, and said their goals are high: they have not been swayed by the expectations of others and have tried to do something different, something no one has ever seen before.
In third place were Caroline / Michael. The couple was 0.65 points behind Allison Reed / Saulius Ambrulevicius, Lithuania, in the free dance, but the margin in the rhythm dance helped them defend their third place. The two young dancers performed a rather traditional ice dance, Gershwin's Rhapsody in Blue, to the best of their ability. The audience praised them with the almost same standing ovation as the top 2 teams. Caroline talked about this program and their future direction; that they wanted to try different kinds of music and that even if this program suits them; it didn't mean that they would continue in that direction. They thought they needed to have an experimental program and would like to try it someday. While Caroline / Michael had a great fashionable flavor, Allison / Saulius's unique and entertaining work was also very impressive. With a season's best of 189.98, they missed the podium by a mere 1.22 points.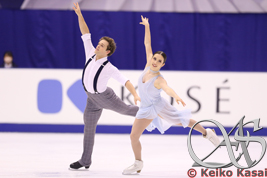 The showdown between Japan's Kana / Daisuke and Misato / Tim was won this time by Kana / Daisuke. Their free dance was so dramatic and enthusiastic; it quickly became the last element of the program as soon as it started. Time was not of the essence as the compelling story unfolded on the ice. 103.68 points were earned in the free dance, and they placed seventh overall with 178.78. Misato / Tim's free dance was beautiful and emotional, but lacked a bit of power in comparison. I hope that these two couples will continue to compete with each other and raise Japanese ice dance to the next level. At the end of this match, 2 teams, Laurence / Nikolaj and Madison / Evan, got tickets to Turin.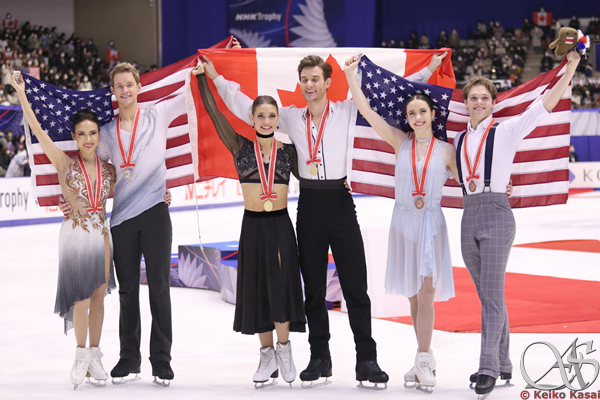 Men - Free Skating
Shoma Uno showed his real strength and won the title. Overnight leader Sota Yamamoto succeeded in the first three quadruple jumps, but after two falls on the triple Axel, the gold slipped through his fingers. Third place went to Junhwan Cha, who stepped up from his sixth place position, and Adam,
who was in second, took fifth. With orange towel banners with his name filling the stands, Shoma moved on the ice, sometimes gently, sometimes passionately, to the beautiful and somber Air on the G string. Despite a few mistakes in the jumps, he won the title with a total score of 279.76, far ahead of the rest, thanks to his rich expression and brilliant skating skills. At the press conference Shoma explained the importance of practice: the driving force to successful skating is to practice fully every day.
Sota scored high in his short program, as he had so far this season, only to drop down the rankings in the free skating. Tonight, he became sixth in free program with 161.36 points. He definitely accumulated positive GOEs in the non- jump elements, despite the 2 falls on triple Axels, to stay second overall with a score of 257.85. He regretted that he had thought about unnecessary things, such as rankings, which led to his mistakes. And added that he thought about recovery too much after he failed his triple Axel combo in the first half so he would need to make sure of his jumps to score points, and practice in case of mistakes.
Junhwan placed third with a speedy performance of sharp, beautiful, and attractive moves. His skating skills, and beauty of his transition were remarkable, especially the Ina Bauer at the end. His free program score of 174.41 brought his total to 254.76, good enough to finish on the podium. He admitted that he was disappointed with the short program, but very happy about the free skating, and he was struggling with himself in between. He made some mistakes, but now he had a good feeling that he would get better.
Although he dropped in the rankings from the short program, Kazuki Tomono's fun performance to The Fledermaus won the hearts of the audience and delighted them even more than his score of 166.76.
Adam's free program, which led him down to a disappointing fifth place, is really a true masterpiece. This time, his planned jump configuration fell apart considerably, and his score was only 163.01. Other parts of his program seemed to be affected by these errors, but we will see more of his typical high-quality performances in the second half of the season. As a result, Shoma Uno and Sota Yamamoto got the two spots for the Grand Prix Final.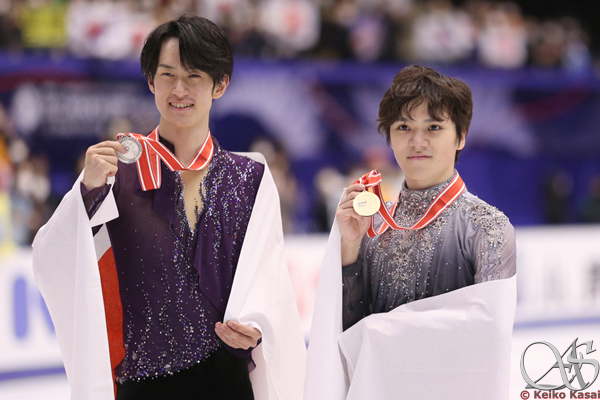 The first day of this event the venue was unusually empty, which has been the case the past few years. I am not sure why. It's such a different experience to watch figure skating live and feel the sense of speed, power, and skating skills, not to mention the atmosphere at the venue. I hope many more people will cease the opportunity to attend a competition and experience the charm of live figure skating. The many Japanese fans are very enthusiastic so I hope they will keep coming and bring their friends to witness the exciting battles between the current top skaters, national and from overseas.