Throwback to Euros 2023
March 21, 2023
By Reut Golinsky, Maria Tairova
Photo © International Skating Union (ISU), Absolute Skating
Before we move on to the main competition of the season, here are some throwbacks to our mixed zone conversations during the ISU European Figure Skating Championships in Espoo.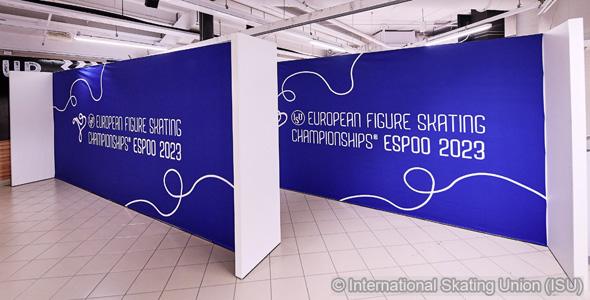 Josefin Taljegård: "I want to be a part of the change"
Since we saw her for the first time at Worlds 2011, we have a soft spot for Josefin. We had an interview with her after her Worlds' debut, we crossed fingers for her during the Olympic season to qualify for the Games and enjoyed talking to her in the mixed zone at Europeans and Worlds. And, of course, we didn't miss a chance to talk to her - albeit once again only virtually - in Espoo.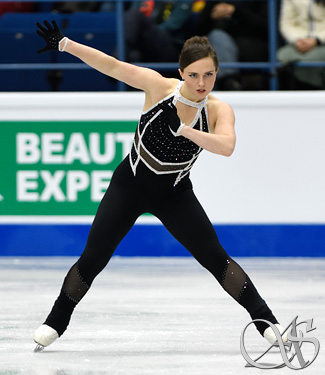 Your short program unfortunately didn't go well. What happened? Did skating in the last group add pressure?
No, I didn't really care about it. I thought it was fun but I know that I have to do what I have to do no matter what position I'm skating at, so I didn't think about it very much. I'm not so happy with my performance. I did a lot of things well, but I'm very disappointed with the toe. I very seldom fall in my programs, so I don't really know what happened.
This program is a joy to watch and a fan favourite, thank you for keeping it for one more season. Did you make any changes for this season?
Not really, I basically kept everything as is, changed the step sequence a little bit, but pretty much everything else was the same. I focused more on making it more fun. And hopefully people will find my free skate entertaining as well, so I focused more on that.
It's nice to see diversity in women's programs here, you definitely don't have a "pretty princess" style.
I always try to do something different. And I already did, I skated to more classical music. Of course, I can skate to it again, it's not that I don't want to. I just really felt like I wanted to do something exciting, different, maybe not something that many girls do, at least not last season when I did this short for the first time. I want to be a part of the change in figure skating, to make it more entertaining for the audience. And maybe also for us, the skaters.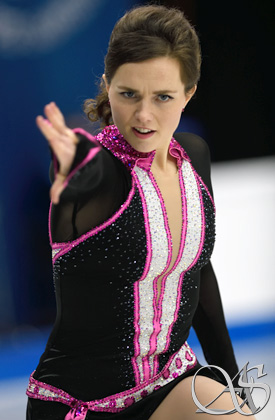 You mentioned your free skate choreographed to an Elvis medley, tell us more about it, how did you choose this music, how did you work on it?
I tried a million different songs last spring, just to try to skate to them and see what I wanted, but I couldn't really find anything. I had done so much already, and I wanted to do something new. So at the end of the spring I went to the cinema and I watched this new movie "Elvis", and I felt that it was really good. And in a way... I'm not Elvis, of course, he's a genius and he was so good. And I don't want to say anything like that [about myself], but I can see myself a little bit in the way he just wanted to sing and entertain. I felt like that's what I want to do, too. I feel that figure skating sometimes has so many technical rules, and I just want to go out there and enjoy the crowd. And from watching the movie, I felt that was something Elvis had to deal with, too. So we choreographed this program during the summer and I like it. I wanted to try different rhythms and it's challenging, especially with the last part which is really fast. But at the same time I said that I wanted to do something new and I've never done something in such a fast tempo before.
You must be so exhausted after that program...
I can promise you I am!
What's next for you?
I have to get the technical score for the short program. Of course, I want to go to Japan, but I can't put too much pressure on myself, because I know that I have other things that maybe not all other skaters have. I'm older, I need to work and study, because in Sweden when you're my age you can't just live for figure skating.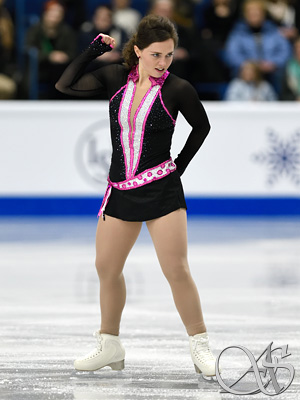 I studied screenwriting, and I have done an internship for "Warner Bros." that I'm finishing right now in Stockholm. I might be working a bit on a script for figure skating. I also choreograph and teach kids. And I want to do that more and specialise in the components, because I feel that in many countries, and also in Sweden, we really need to work on that part. I think a lot of skaters would enjoy skating even more if they worked a lot with expression to the music and things like that. So, I wanted to give it to the younger skaters.
Unfortunately, we won't see Josefin in Japan this week. The minimum technical score requirements were so high that women without triple-triple combo had to do their short program close to perfection to fulfil them. At Tallink Hotels Josefin missed the tech minimum by 0.62 only, at her next competition, Challenge Cup, she improved her score, but still was 0.18 short, level 4 instead of 3 for her step sequence could have made the difference. But from what she told us it sounds like she will have an exciting off season with a lot of important work, and we hope to see her back on the ice next season.
Nicole Schott: "You have to let all the emotions dissolve"
Nicole had a very tough competition, considering that she, as one of the more experienced European skaters, was expected to be near the top, some were even naming her as a possible medal contender. Her short was a complete disaster with two falls and under rotation in the combo. "I don't think I can analyse this performance right now. I am shocked about how it went and I am very disappointed obviously. Sometimes there are no reasons. You don't have to sugarcoat anything and look for excuses," she said in the mixed zone afterwards.
The falls appeared to be more serious than she thought at first, while still hyped with adrenaline, next day she couldn't stand on her left foot, had to do physiotherapy, and took painkillers. "At 26 years it hurts a bit more than at 20..." Mentally it wasn't easy as well: "Yesterday and today were, I think, among the hardest days in my life.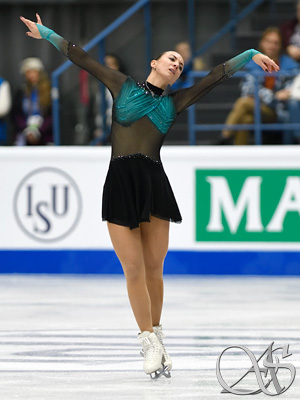 Everyone was looking at me with this 'I'm so sorry' expression and didn't really know what to say."
Her free skate went better although she fought through the second half, and you could feel it. Yet placement-wise these Europeans were best in her career, as she finished ninth.
And we loved her elegant free skate to an interesting - "reimagined" - cover of "Bohemian Rhapsody" by Daisy Gray. "I wanted to do something modern this year," she explained, "but all the songs [I tried] were too familiar and well-known, too much of a big hit. And then I found this version of the 'Bohemian Rhapsody' and it gave such a different meaning to that song, added so much emotion and expression. I immediately loved the music and I said I wanted to skate to it."
When asked about her plans for the future, Nicole was hesitant. "This is the worst time to make decisions. I have already said to myself several times during my career that I'm not going to keep skating. I said that already earlier this season. But you have to let all the emotions dissolve. You simply don't make any such decisions in the middle of a season."
Whatever her decision about her career might be, we hope she has a great time in Saitama and finishes this season on a high note, with two clean performances.
Mia Caroline Risa Gomez: "I could relate to Wonder Woman"
At her debut Europeans Norwegian Mia Caroline qualified for the free skate and showed two beautiful programs. In the mixed zone after her free skate, she told us a bit more about them.
Her short program to "Metamorphosis Two" by Philip Glass was choreographed by another Norwegian skater we love dearly, Sondre Oddvoll Bøe: "This was my first year working with him and it was absolutely amazing. He was really good at creating programs made specifically for me. He knows me as well, so he knows things I like, the way I skate. And he was very good with building up the program, I thought he did an amazing job. And I really, really love this program.
I thought it was an amazing collaboration and I can't wait to work with him again next season."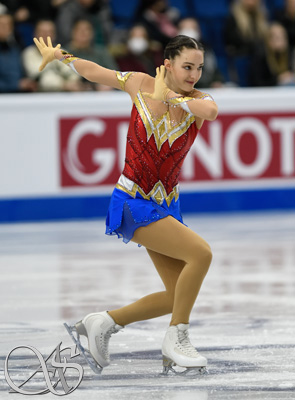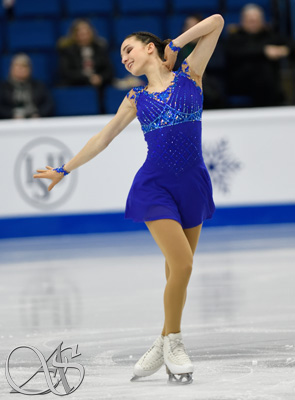 Her free skate is to the "Wonder Woman" soundtrack, and this is how she explained her choice: "When I first heard the music, I thought it sounded really cool, and I loved the music cuts, but I hadn't seen the movie at that point. So, I straight away went and watched the movie, and I just fell in love with this character. I tried to get into her feelings and emotions and see who she was. I could relate to her so much, to her strength and passion. I felt like it suited me very well, and I tried to show in my program the same amount of power that she shows in the movie."
Overall, she was very pleased with her competition in Espoo: "I'm very happy I was chosen to compete at the Europeans. It was my first time, so I was a bit nervous. But skating to such a nice crowd and in such a big competition felt nice. So, I'm very grateful for the opportunity."
No doubt she'll enjoy skating to an even bigger and louder crowd in Japan this week.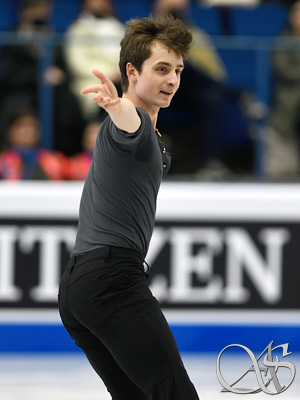 The ISU World Figure Skating Championships start tomorrow. The focus and media attention will be, of course, on the top skaters and last warm up groups. There are so many potential medalists, the field is deep, and the competition is quite open.
But, like we tried to show in this article, in recent interviews we published, in mixed zone quotes we try to do on social media, every single skater has an inspiring story to tell. Their love for this brutal demanding sport amazes and commands respect. "I just love doing it," Graham Newberry answered when we asked him what keeps him going. "Any time I think about skating - which is probably all the time! - I want to go on the ice. Even when I'm at home thinking about going to bed, I'm thinking about what I want to do in my skating. And I can't really describe why I like it or how much I like it. It's just a feeling I have. I spend seven days a week at the rink, and most of the days when I'm at the rink I'm there all day, it's all encompassing. I think you have to love it to do what I do. And even on bad days like this one, it makes me want to go home and fix the mistakes I made and try to improve."